From Butt to Balfour: Edward King-Harman (1838-1888)
Edward King-Harman was a Protestant and Conservative Home Ruler in the eighteen-seventies who became a Unionist and a defender of his fellow landlords in the following decade. Some aspects of his journey from Butt to Balfour provide illuminating contrasts to the career of his contemporary, fellow Protestant landlord Charles Stewart Parnell.
A founder member of the Home Rule movement in 1870 and an early and vigorous champion of the cause, King-Harman was returned unopposed to Parliament for County Sligo at a by-election in 1877. Although he had been generally regarded as a supportive and paternalist landlord, he lost his seat at the general election three years later. By the time he returned to Parliament in 1883, at another by-election, this time for County Dublin, the Land War had left him financially embarrassed and personally embittered, deeply pessimistic for the future of his class. In 1885, he switched to an English constituency, the Isle of Thanet division of Kent, and spoke in opposition to Gladstone's Home Rule Bill the following year. In 1887, in a highly controversial move, Lord Salisbury's Unionist government appointed him parliamentary under-secretary for Irish affairs, making him a somewhat mechanical spokesman for the chief secretary in the House of Commons. His journey from Butt to Balfour in less than decade ensured that his front-bench experience was distinctly unhappy, and sympathetic commentators alleged that the frequent parliamentary maulings he endured from Irish MPs contributed to his death in June 1888. In another eerie parallel, both died young: Parnell at 45, King-Harman at fifty. King-Harman does not appear in either the Oxford Dictionary of National Biography or the Dictionary of Irish Biography, presumably being not important enough for the first and not Irish enough for the second. This essay is intended as a partial contribution to filling that biographical gap, but it is offered with the hope that more substantial studies of his career may follow. [2022: my comment was unkind. I understand that King-Harman is now under consideration for inclusion in the DIB.]
The King family of Rockingham King-Harman's first male ancestor came to Ireland in 1601, and soon after acquired the core of the Rockingham estate in County Roscommon. The eighteenth-century mansion itself stood close to the shores of Lough Key, a few miles from Boyle.[1] The subsequent story of the dynasty is complicated by its divisions into various branches, sometimes reunited by marriage. Titles of nobility conferred by the cardboard coronets of the Irish peerage also make it difficult to trace individuals, while their surnames mutated generation by generation as impecunious male Kings levered their way from one landed heiress to another. Ruthless simplification of dynastic intrigue and a focus upon King-Harman's immediate forebears is required to explain how he came to be one of Ireland's leading landowners. A fortunate marriage enabled his grandfather, Viscount Lorton, to add the Harman lands at Newcastle, near Ballymahon in County Longford. Hence his second son became Laurence Harman King-Harman, although – unhelpfully it might seem – he was known in the family as Harman King-Harman. Since he became the father of the subject of this essay, he is referred to here as King-Harman senior. Younger sons of landed families were frequently left with only small annuities to support them, but King-Harman senior was fortunate in inheriting the well-run Newcastle estate in 1838. King-Harman himself was born that year, and may be assumed to have spent much of his childhood at his father's County Longford home.
Thus far there seemed to be prizes for everybody in the King dynastic raffle. Unfortunately, Robert King, Lord Lorton's heir and King-Harman senior's elder brother, created embarrassing problems for his kinsfolk. Although his enthusiasm for politics and alcohol caused him to run up massive debts, he had at least secured the succession by fathering a son through his marriage in 1829 to Anne Gore-Booth, of the well–known family of Lissadel in County Sligo. Unfortunately, there were marital problems, and Anne King began a relationship with a French aristocrat. When she produced a further son in 1848, Robert King disavowed parentage. The evidence was not sufficiently conclusive to secure him the divorce that he sought two years later, a failure that drove him to embark upon determined legal moves to ensure that "the Frenchman", as he referred to the disputed child, was written out of the succession to Rockingham. When Robert King's acknowledged firstborn died in 1871, leaving only a daughter, Rockingham – which always passed through the male line – was inherited by King-Harman senior.[2] He owned Rockingham for just four years, and preferred to continue residing on the Longford property that he had inherited over thirty years earlier. Rockingham was enmeshed in a legacy of bad management that hardly made ownership a pleasure. Upon the death of King-Harman senior in 1875, his son, the popular Home Ruler, became not only one of Ireland's biggest landlords, but also one of Ireland's unluckiest.
King-Harman: the early years Edward Robert King-Harman was born on 3 April 1838, the eldest of five surviving sons.[3] His parents were "exceptionally religious".[4] His mother, Mary Cecilia Johnstone, was a Scot, whose grandfather had established a very large family fortune from the loot of eighteenth-century Bengal: as a young Army officer, King-Harman would help reconquer northern India after the Mutiny-Rebellion of 1857-8. Biographers now generally accept that Parnell's American mother had little influence on his childhood, since she left the family home at Avondale when her marriage collapsed when he was a small boy. But whereas awareness of his American descent probably reinforced Parnell's sense of an Irishness that rejected English overlordship, King-Harman's upbringing more likely took place within a sense of a wider British identity, which his phase of enthusiasm for Home Rule would modify rather than replace. Unfortunately, Cecilia, as she was known, seems to have bestowed little warmth upon her children. "She became a formidable matriarch and was much feared by her sons."[5]
Following in the footsteps of many of his male forebears, King-Harman was sent to Eton. (Parnell, whose father was an Etonian, was presumably spared because of his fragile health in childhood.) King-Harman was proud of the school, in 1883 pompously defending Eton boys against an accusation of cruelty to animals. [6] A rare sympathetic obituary claimed that he had to contend against anti-Irish prejudice, "and many a young Etonian received ugly punishment from the young Irish athlete from Roscommon as the reward for his contempt".[7] Since by manhood he had grown to a height of over six feet (180 cms) and weighed more than eighteen stone (115 kilos),[8] it is tempting to imagine him as a polished product of Eton, one of the senior Ascendancy boys who claimed the privilege of presenting the Headmaster with a bowl of shamrock on St Patrick's Day. The truth is markedly different. He was admitted to Eton in 1847, at the age of nine. Reforms in the public school system from the eighteen-sixties gradually raised the general age of admission: Eton, which took boys as young as eight, did not adopt new regulations until 1872 fixing the age of admission from eleven to fourteen. A quarter of a century earlier, Eton was teaching very small boys at primary level. King-Harman was allocated to the Third Form, which was divided into sets called Sense and Nonsense. In both, the curriculum was entirely limited to the writing of Latin verses. One group translated these from English, but the other was freed from all challenge of meaning and made to concentrate solely upon the elegance of scansion. King-Harman was allocated to Sense, which suggests that he may have received some prior home tutoring. He seems to have progressed steadily through the school, but left early in 1853, around the time of his fifteenth birthday.[9] In material terms, his childhood had been privileged; emotionally, an intimidating mother and a Spartan public school may have made it less enriching. Although his puritanical parents may have shielded their offspring from the scandalous story of aunt-by-marriage Anne Gore-Booth, the failed divorce episode probably left its mark on the twelve year-old King-Harman, and may explain some of the patriotic fisticuffs that he later attributed to his schoolboy days.
King-Harman left Eton to prepare for a career in the Army. He was commissioned as an ensign, the lowest officer rank, in May 1855, and promoted to lieutenant – a promotion which his family purchased – one year later.[10] His regiment, the 60th Rifles, was posted to India to take part in the suppression of the 1857-8 Mutiny/Rebellion. According to family tradition, he took part in the siege of Delhi, in which the 60th Rifles were prominently engaged throughout the summer of 1857. However, a note in a later Army List specifies service the following year in the reconquest of Rohilkhand, a district across the Ganges to the north of Delhi. In the immediate crisis of the uprising, the British Raj had opted to bypass the area in order to crush the main centres of insurgency. But this did not mean that Rohilkhand was a sideshow, nor was the military intervention there merely a mopping-up operation. King-Harman took part in the recapture of two major towns, Bareilly and Shahjahanpur, for which he received the standard campaign medal. He once remarked that he had "led Irish soldiers under very severe fire", but supplied no details. His only recorded personal contribution to the campaign was described in a barbed note accompanying his Vanity Fair portrait of 1886 which stated that: "While in India he distinguished himself by the peculiarly Irish exploit of parading a religious relic captured as prize of war throughout a population most likely to resent the parade."[11]
Active service under quasi-guerrilla warfare conditions seems to have strengthened King-Harman's external defences of insensitivity, but it did not make him into a team-player. As soon as the regiment returned to England, in 1859, he sold up his commission. "He left the army, not because he did not love soldiering, but because he hated – to use his own words – the 'infernal cads' they made officers."[12] A war scare with France in 1859-60 sparked interest in amateur soldiering, and he threw himself into the militia, which was organised on a county basis and hence more likely to recognise the leadership claims of prominent landlord families. In January 1860, he was promoted to the rank of captain in the Royal Longford militia regiment. A subsequent promotion in 1878 leaped several ranks to make him an honorary colonel.[13] This over-inflation of military status would symbolically reflect his artificial elevation in politics. During his Home Rule days, he was popularly known as "The Captain". As a Unionist and defender of landlordism, he became the more intimidating Colonel King-Harman.
As a young man he seems to have engaged in the jolly japes of a privileged drone, "something of a roysterer [sic] … in a harmless sort of fashion", who took pleasure in minor acts of vandalism such as twisting knockers from front doors.[14] He patronised prize-fighters, and was handy with his own fists. One day, in the West End of London, he heard a dandified Englishman reject the pleas of an Irish beggar woman, telling the "dirty Irish something or other" to go to Hell. King-Harman intervened and flattened the abuser of his country, "to the utter ruin of his sartorial finery." He was arrested but the matter was dropped when he pointed out at the police station that he was related to an earl.[15]
An escapade late in May 1861 ended less amiably. King-Harman and eight or nine other noisy young rowdies ended the festivities of Derby Day at Cremorne Gardens, a fashionable resort in Chelsea. Well after midnight, and evidently well lubricated with alcohol, they determined upon a "lark", linking arms to form a cordon and drive other patrons out of the bar. Staff locked the nearby coffee room, but King-Harman and two of his friends kicked down the door and forced an entry. The hearties chased customers from the tables, threatening to trash the establishment if they were resisted. Two police constables briefly managed the remarkable feat of taking the massive King-Harman into custody, but his associates shouted "Rescue!" and dragged him free.
The Westminster magistrate, Thomas Arnold, took a dim view of the episode. King-Harman initially secured the services of William Ballantine, one of England's most senior lawyers, who rarely appeared in a police court. However, Ballantine's offer to post bail of £25,000 was refused, and King-Harman spent four days on remand in the local House of Correction, Coldbath Fields, a prison with a grim reputation. The initial charge of assaulting a Cremorne employee carried only a fine of £5, but Arnold insisted on summoning King-Harman back into court to answer for the further, and much more serious, offence of assaulting the police. The junior counsel who now represented him offered no evidence for the defence but tried the usual ploy of fake contrition ("no one more seriously regretted what had happened than his client"). He also ingeniously argued that since King-Harman had technically been in police custody at the time of the rescue, he could not be guilty of assaulting them. The magistrate brusquely rejected the excuse, and pronounced that "the gang" had gone to Cremorne "with the express object of disturbing the public peace" and determined to resist any attempt to prevent them. "A pecuniary fine upon the defendant would not in any way meet the case. … He was in the habit of dealing with cases of the same kind daily." The usual sentence was evidently two weeks in Coldbath Fields. Since King-Harman had already spent four days there on remand, Arnold sentenced him to ten days' corrective detention.
The accused and his friends manifested "the greatest consternation" at the outcome, and intimated that they would immediately apply to the authorities for clemency. Two days later, it was announced that the sentence had been "set aside", and the prisoner released.[16] The Home Secretary, Sir George Cornewall Lewis, was a solemn and intellectual politician, but, when challenged to explain his decision in the House of Commons, he criticised the "unnecessary length" of King-Harman's sentence, and adopted a strangely benign interpretation of the evidence. "There was no question of any violence used or blows struck. … It appeared to me that after he had undergone two days' imprisonment, the justice of the case was sufficiently met, and I directed him to be liberated."[17] The explanation was received with widespread contempt. "Mr King Harman is a man of good birth and large property; consequently, an impunity is accorded to him, for which a plebeian pauper or a humble mechanic would seek in vain." King-Harman "deserved an infinitely heavier punishment than a low-born perpetrator of an ordinary offence of the same description." "If you happen to be born a gentleman, you may conduct yourself with comparative impunity like a blackguard."[18]
Young gentlemen of that era were certainly handy with their fists, and rarely tender of the rights of their social inferiors. Parnell was famously forced to leave Cambridge in 1869 after becoming involved in a fight with a couple of drovers. Less well known was an unpleasant episode at a Wicklow hotel later that summer, in which he harassed some English tourists (presumably from the despised middle class) and blows were exchanged.[19] By contrast, in the medium term, King-Harman's career was not affected by his brief incarceration in Coldbath Fields, not least because he did not have one. Unfortunately, the ever-resourceful Tim Healy unearthed the episode in 1887 and turned it against the Unionist government's proclaimed belief in law and order.
However, at a personal level, King-Harman's loutish behaviour probably caused him considerable embarrassment. He was engaged to be married to Emma Frances Worsley, daughter of a North Riding baronet, and the wedding had been "arranged to take place in Yorkshire early in June" – at precisely the time he was forced to answer to the Westminster magistrate.[20] The couple were relatively young – King-Harman was 23, a year older than his bride – and as his youngest child, Emma may well have been the object of Sir William Worsley's special affection. We may guess that the errant bridegroom had some awkward conversations with his future father-in-law, not to mention with his fiancée. To make matters worse, to delinquency was added bereavement. Emma's brother, thirty year-old Arthington Worsley, seems to have been suffering from a painful degenerative disease – as usual, the medical information is opaque – and was taking the waters at the spa town of Malvern. On 3 June he died of "neuralgia which suddenly attacked the heart".[21] Accounts of the Cremorne riot include references to the arrival of a telegram summoning King-Harman to a deathbed – a message that some felt was suspiciously convenient – and it was evidently the death and funeral of brother Arthington that delayed the hearing of the second charge arising out of the 28 May affray until the middle of June. There is never a good time to be sent to prison, but King-Harman had undoubtedly managed to choose a spectacularly bad one.
After a two-month delay, his marriage to Emma took place in late August 1861. A daughter, Frances (known in the family as Fay) was born in 1862, and a son, Laurence, followed in 1863.[22] With only one son, King-Harman's own dynastic ambitions were dangerously at risk to the fragility of Victorian life: Laurence's early death in 1886 would be a severe blow. Still, the eighteen-sixties were an easy decade for King-Harman, a life of Dublin clubs and country pursuits. As the family history admits, he "seems to have had no occupation from the time of his marriage" until 1871, when his father put him in charge of managing the Rockingham lands.[23]
However, while King-Harman was leading a frivolous life, Ireland seemed on the verge of revolution. In 1867, there were fears that Newcastle would be attacked by Fenians, and the experience of a lieutenant who had commanded riflemen helped turn the mansion into a stronghold. Newcastle would be defended by a force of 75 to 80 "good steady men", armed with grenades and guns, trained to load and fire in relays, their womenfolk organised to supply ammunition.[24] The attack never came, but, as a soldier, King-Harman felt some sympathy with men who were prepared to fight for their beliefs. Even after his re-emergence as a diehard Conservative, he hailed the Fenian rank-and-file as "honest men misled by designing knaves". During the 1883 Dublin by-election he admitted that as "a student of Irish history", he could "still read with something of pride and sympathy of those who in the days of old carried the flag of rebellion in this country". In one of his last explosions in the House of Commons, he turned on his Irish tormenters to claim that "there was more honourable feeling among Fenians than among those who sat below the Gangway opposite". As a candidate in the Longford by-election in 1870, he had called for the release of Fenian prisoners, and he was said to have privately subscribed to help support their families. But the crisis of 1867 provided an early example of the quirky and anecdotal process that led him to adopt sweeping if shallow political opinions. It was a "remarkable thing", he told the House of Commons twelve years later, that a rumour swept his locality in 1867 that "when the Fenians took possession of the country they would parcel it out in farms of 10 acres each; and, therefore, every man who held 11 acres was an opponent of Fenianism." Without questioning either the canard or the generalisation that supposedly followed from it, he concluded that peasant proprietorship would bring stability to the Irish countryside, and began to consider land purchase schemes.[25] Within three years, a similar series of staunch shibboleths catapulted him to a prominent place in a new movement for Irish self-government.
In 1874, King-Harman was at the centre of a dramatic episode that briefly threatened to be fatal. In mid-April, he attended a race meeting in Sligo town, staying at a local hotel. Around midnight, he was chatting and, no doubt, drinking with three friends in a private sitting room when they heard a commotion in the public bar, which, at that hour, was officially closed. Charles Clancy, a barber, and his brother Henry, a hairdresser, had forced their way in, demanding to be served. When a barmaid refused, she was called "improper names". King-Harman and his friends "remonstrated" with the intruders, and then helped staff hustle them into the street. Outside the hotel, Charles Clancy produced a knife, slashed two of the men and stabbed King-Harman. He was perhaps fortunate to have suffered a broken rib – some indication of the violence of the attack – since if the blade had penetrated deeper, the wound might well have been fatal. As it was, his life was "in great danger" for several days. There were fears that infection would set in, and the victim himself asked that prayers for his recovery be said in local Protestant churches. It would be two weeks before he was pronounced to be "out of danger".[26] The sequel, at the Sligo assizes in July, was an anticlimax. Brief press reports suggest that Clancy's trial was a simple recitation of the facts: he could hardly have afforded ingenious legal representation, and a plea of self-defence might have been dangerously provocative. Yet, surprisingly, the jury failed to agree a verdict, the jurors were discharged and so, it would seem, was the accused, since there is no report of any retrial. King-Harman was in his Home Rule phase, and the Freeman's Journal had referred to him as "this gallant and patriotic young gentleman", but perhaps there was some feeling among the jurymen that Clancy had been subjected to disproportionate force.[27] It seems unlikely that the stabbing was linked to the breakdown of King-Harman's health after 1885.
Home Rule King-Harman shared in the widespread Protestant outrage at the disestablishment of the Church of Ireland in 1869, which led almost as a reflex action to the formation of Isaac Butt's Home Government Association [HGA] the following year.[28] He was not only a founder member, but an active participant, chairing public meetings (possibly a mistake, since his Conservative politics encouraged the conspiracy theory that the HGA was "a Tory dodge"[29]), and taking an active part in by-election campaigns, where his bulk, courage and boxing skills were exceptionally valuable. Even before the founding of the HGA, he was in the thick of the December 1869 Westmeath by-election, flooring opponents "like ninepins" on behalf of the veteran Young Irelander, John Martin, in opposition to a rival landlord family, the Greville-Nugents, whose treatment of their tenants he vigorously condemned.[30] When the result was overturned, because of bribery and intimidation, King-Harman came forward himself to contest the second by-election, in May 1870, doubling John Martin's vote against another Greville-Nugent candidate.[31] Another opportunity soon occurred. Parnell would famously make his first political impact by contesting the 1874 County Dublin by-election for the Home Rule League. When a vacancy occurred for Dublin City four years earlier, the HGA faced the same embarrassing challenge: to fail to contest the capital city would be a terrible confession of weakness. King-Harman came forward as their standard-bearer, to be honourably defeated by 4,468 votes to 3,444.[32] He put himself forward as a possible candidate for Roscommon in 1873, and for Athlone in 1874, before finally securing an unopposed return for County Sligo in 1877.
"I stand here as a true Irishman", King-Harman told a Conservative rally at Dublin's Rotunda in 1883.[33] "Colonel King-Harman is himself more thoroughly Irish than any original Celt," said Vanity Fair in 1886. It riled him that he was in the process of being redefined out of the country altogether. "He and others were denounced as Saxons," he complained during the debate on the Home Rule Bill. "They, and their ancestors, had been 350 years in Ireland, and yet they were spoken of as 'aliens', and were to be kicked out of the country. Who were the Irish? He should like very much to know."[34] Pride in his Irish identity underlay his support for Home Rule, the belief, as he put it during the Dublin by-election, that "Irishmen should be and are competent to manage their own affairs…. Englishmen cannot govern us because they are ignorant of our circumstances." He spoke of frequent conversations with English MPs, who admitted their inability to understand Irish issues, but nonetheless mechanically voted against remedial measures.[35] Like Parnell, he was proud that his forebears had resisted the "iniquitous" Act of Union. In the Longford by-election, he claimed that "long before" he entered politics, "I had considered, not only the necessity, but the possibility, of obtaining for our nation our only chance of prosperity – Irish government for Irish affairs." He repudiated the slander that he was "determined to get into Parliament at any cost", describing the expenditure of "time, energy, and labour in a British Parliament" (not to mention the expense) as conferring an "extremely problematical honour".[36] "I am not a Gladstone man; I am not a Disraeli man", he insisted to the voters of Longford, calling himself "a supporter of every measure calculated to improve my country."[37] Speaking in Roscommon three years later, he reiterated his independence. "He belonged to no party. In fact, he did not want to interfere in English politics at all." A.M. Sullivan advised King-Harman to repeat this formula at the Sligo by-election in 1877, but its obvious unreality led it to be quickly thrown back at him.[38] Nonetheless, it was an early indication that his political stance would diverge from the parliamentary guerrilla tactics favoured by Parnell.
King-Harman saw the Protestant backlash against disestablishment as an opportunity to construct a united front in Ireland. "A great change has taken place in popular opinion, especially amongst those classes who, a few years ago, would have been most hostile to the nation, that Irishmen alone are qualified to manage Irish affairs. … we want more than the fusion of the Catholic and the Protestant elements – we want more than the cordial concurrence of the landlord and the tenant parties – we want a purer patriotism still." "No nobler utterance has cheered our country for weary years", purred the Nation. But there was a hidden catch in his plea "that each and all of us should cast aside personal ambition, and be content to work for the common weal. … let Protestant and Catholic, landlord and tenant, peer and peasant unite, and England must grant our just demands, for Ireland United is Ireland Free." While King-Harman was prepared to respond to the Catholic bishops over education and remedy the grievances of the tenants, fundamentally he envisaged an Ireland where the substantial concessions necessary for cross-community harmony would be made by others in their unquestioning deference to Ascendancy rule. In 1870, that assumption was still defensible: even the Nation believed that the Irish people would rather follow their landlords "than any other leaders on earth, if they would but be leaders, and lead, not for a class, or a party, or a creed, or a section, but for Ireland".[39] "His ambition was to see an enfranchised Ireland in which the 'gentry' would be the natural leaders of the people," wrote a sympathetic critic at his death. "He could not see that the 'gentry' themselves made it impossible, and, therefore, he threw in his lot with own caste."[40] Indeed, King-Harman was all too ready to assume that his call for social harmony was in itself enough to achieve ecumenical peace. During the 1871 Westmeath by-election he proclaimed that he was "proud" as "a Conservative, Protestant gentleman" to share a platform with the local Catholic bishop and his priests of the diocese and "to thank Heaven that at last his fervent aspirations had been realised and that religion no longer divided them."[41] This was the man who would try to bar his own daughter from marrying a Catholic.
King-Harman's use of simplistic imagery makes it difficult to deduce precisely what he hoped an Irish parliament would achieve. Pointing out that Roscommon would not wish its county business to be transacted by Longford no doubt reassured his own neighbours of the homeliness of Home Rule, but it hardly reflected a mature acceptance of the possibility of being outvoted in a self-governing legislature.[42] By contrast, likening Ireland to "a barrel with two leaks in it", one represented by emigration, the other by absenteeism among the landed classes, was a striking metaphor. No doubt, during the Dublin by-election, the claim that absenteeism was "killing the country" appealed to shopkeepers and property owners in the capital. "Look at your streets, comparatively deserted – your public park, with scarcely a carriage to be seen driving in it, and the blinds pulled down on the windows of the public squares, not a soul living in the houses and knockers never touched." But, even when seasoned by anti-English invective, his panacea, "home legislation", was not very persuasive: it would "bring back money to the country, which will restore commercial prosperity and bring among us all those means of wealth by which England flourishes, and by fraud and unfair commercial treaties she has denied to Ireland."[43] While it was reassuring to learn that he had grown out of vandalising doorknockers, it was not clear whether he expected a self-governing Ireland to embrace tariff protection (as Parnell wished), leaving a lack of clarity on a major issue. By 1877, King-Harman had come to believe that "the question of absenteeism is exaggerated", yet he offered no alternative economic case for the restitution of self-government.[44]
King-Harman was equally imprecise about the form of self-government that he supported. As early as the Longford by-election, advanced Nationalists criticised the allusions to Home Rule in his election address as "vague and unsatisfactory".[45] In his sole parliamentary speech on the subject, in 1877, he avoided detailed commitment, not least because he was seconding a motion which merely asked for an enquiry.[46] He acknowledged that there were "many Irishmen of considerable intelligence and influence who would limit their demand by saying – 'Give us a local commission for Ireland who can legislate for us on such subjects as Railway and Gas Bills' but he did not acquiesce in that limitation—far from it." He insisted that he wished an Irish legislature to deal with "purely Irish matters" repudiating "in the strongest manner any wish to interfere with Imperial questions", but he made no attempt to define the division between the categories. He drew a firm distinction between Home Rule and "separation from England", reminding the House of Commons that "the first body of men who spoke up for Home Rule were principally Protestant Conservative gentlemen, who would repudiate with scorn the idea that they desired to separate from England, and who, if repeal of the Union were offered them, would refuse it at once, because they were aware that by accepting it they would be doing themselves a most material injury."[47] The Disraeli government's chief secretary for Ireland, Sir Michael Hicks Beach, pointed out that his "repudiation of a desire for Repeal… was coldly received" by other Home Rulers.[48] King-Harman's notional allies would have reacted even more negatively had he revealed his belief that Home Rule would in fact create a new and deeper relationship within the United Kingdom. "Home Rule meant not separation from England, but real union", he had told an audience at Drogheda in 1871. "Let their English brethren but give them fair play, and they would find that Irish hearts were warm, and Irish arms were strong, and when the day of tribulation came, instead of being a thorn in their sides, they would prove a help."[49]
Much of this might be dismissed as an idiosyncratic construct of self by an assertive character who sought to reconcile his proclaimed Irishness with his personal relationships – a Scottish mother, an English wife, the experience of an English public school and a British regiment. But Roy Foster has warned against the simplistic dismissal of the followers of Isaac Butt as merely gentlemanly dilettantes, destined to be trampled underfoot by the march of Parnellite nationhood, arguing that, in the eighteen-seventies, there was still scope for a devolution settlement that would not undermine Britain's imperial strength. King-Harman was right to warn the House of Commons against the assumption that that refusal even of a commission of enquiry to examine its possibility would put an end to Home Rule: "so far from it being squelched or stopped, it would grow up into a larger and more awkward question".[50] It did indeed mutate, driving him out of its ranks.
A dramatic episode in the House of Commons in April 1878 drove a wedge between King-Harman and the wider Nationalist movement. Backed by Parnell, Frank Hugh O'Donnell attempted the courageous task of persuading MPs that the recent assassination of the Earl of Leitrim was not a harbinger of agrarian warfare. Lord Leitrim's defenders portrayed him as an eccentric landlord who was punctilious in upholding his rights. In reality, he was cruel and capricious, and widely suspected of sexual exploitation. O'Donnell's use of the term "debauchery" provoked a protest from King-Harman, but as the member for Dungarvan purported to be discussing a hypothetical situation, the Speaker allowed him to continue. However, an allusion to an episode that was widely believed among the Irish people to be true proved too much for his colleague from Sligo. O'Donnell referred, again ostensibly in hypothetical terms, to a tyrant who had placed "the alternative of eviction or dishonour before the peasant girls on his property", and who "when his infamous advances had been slighted … had carried out his threat of eviction". King-Harman, described by one unfriendly newspaper as "goaded to frenzy by the attack on the manners and customs of the aristocracy", leapt to his feet and announced that he spied strangers. The Freeman's Journal condemned him for using this "obsolete privilege" to drive journalists from the galleries, ominously branding his initiative as "an ill service for a Home Rule member", the more so as King-Harman himself was "we believe, a good landlord" – possibly the last favourable acknowledgement of his paternalist credentials from the Nationalist camp. Although the debate continued in closed session, King-Harman's gesture ensured even greater publicity for O'Donnell's carefully laundered charges. It also cost him much of his earlier popularity. When Parnell attacked him at a meeting of Irish exiles in Manchester a few days later, there was "loud hissing" at the mention of his name.[51]
By June 1878, King-Harman was under attack in his own constituency. The influential weekly Nation published a critical letter from "A Tobbercurry Man". (It sometimes seemed that this small settlement had as many names as people: it was also spelt Tobercurry and Tubbercurry.) The writer was almost certainly the Fenian hotel-keeper, Patrick Sheridan, who would soon emerge as a key Land League organiser. In 1882, an over-confident Parnell would rely upon him to pacify the west of Ireland as part of the Kilmainham Treaty settlement, but Sheridan caused him great embarrassment by fleeing the country after the Phoenix Park murders. Sheridan probably hoped to be elected MP for Sligo himself and, although the ambition was implausible, he chose thinly garbed anonymity in the knowledge that the hand that wields the dagger rarely wears the crown. The tactic adopted in the letter was subtle, and characteristic of Sheridan's deviousness. While condemnatory of King-Harman's record in Parliament, it directed its principal fire against Canon John MacDermott, a prominent priest who had supported his candidacy at the previous year's by-election. MacDermott crushingly replied that his assailant well knew that he had recently moved to a parish in Mayo, and hence was barred by simple courtesy from lecturing the people of Sligo. However, Tobbercurry Man's challenge had the intended effect. Canon MacDermott let rip, damning King-Harman's votes in Parliament as "nothing short of treachery" and the man himself as "a huge political humbug".[52]
King-Harman was roundly defended by one of his tenants, James Quinn of Erris. The Nation declined to publish much of his letter because of it was too abusive, but Quinn's attack on Canon MacDermott is a refreshing antidote that the assumption that Catholic Ireland was priest-ridden and crushed into submission by the Church. "It is sad to see one whose mission is to cultivate peace and good-will amongst men, taking up charges against a man without one particle of truth to support them." King-Harman, Quinn insisted, "supports Home Rule by his influence, his vote, and his purse. He not only advocates tenant-right, but practically carries it into effect."[53] To some extent, the attacks on King-Harman were unfair. He had spoken in support of Home Rule, and was evidently sincere in his support for Catholic education, especially the widening of opportunities for study at university level. In June 1878, he told the Commons that "the Catholic youth of Ireland were not placed on a fair footing with their Protestant countrymen – that they had to start in the race of life unfairly handicapped and weighted, whereas it was the duty of the State to deal equally with all classes." To the objection that support for Catholic colleges this "would place education in the hands of the priests", he insisted that the Irish people and their priests simply demanded "a better system than now existed, in order that the children might receive a comprehensive and not a dwarfed and bigoted education." The clear implication of his argument was that the middle-class Irish Catholic laity would place limits on the influence of the Church. "No sane Irishman, possessing education himself or appreciating the advantages of education, would do what the opponents of Catholic education in Ireland asserted would be the effect of the proposed change, and allow the entire education of the rising generation of the country to be handed over entirely to the priesthood without any supervision on the part of the State." It was a sign of the hostility generated by the Lord Leitrim episode that Dublin's two leading Nationalist newspapers truncated their reports to make it appear that he had delivered a personal attack on the integrity of the priesthood.[54]
Later, when King-Harman occasionally defended his conversion to Unionism, he used the classic argument of many defectors from a cause: he had not abandoned Home Rule, rather it had moved away from him. During the debate on Gladstone's scheme in 1886, he insisted that the Home Rule leadership of the early 'seventies "was composed of a very different class of men from those to whom the Prime Minister now proposed to hand over the government of the country. They were leading merchants, magistrates, bankers, and other men who had a great stake in the country, and one and all would have scouted the idea of separation." But in one of his last parliamentary interventions, King-Harman honestly acknowledged that he had been a "hot-headed young man" who misread the course of Irish nationalism: "he was one of the few who had laid down money, and had sacrificed political and personal friendship in the hot days of his youth, on the altar of Home Rule, because he then believed that there was honesty among those men who were agitating for Home Rule, and that it was only when he found that there was no honesty among them that he found himself obliged to reconsider the ideas of his hot youth." Unionism was content to forgive the sinner who had seen the light. Even Edward Saunderson, the most rigid of Ulster Conservatives, accepted that "no one could deny that Home Rule in former times was a very different thing from what it is now."[55] As King-Harman himself put it in 1882, the original Home Rule movement "might have been foolish, but its intention was good."[56] His former allies were less charitable.
Of course, King-Harman's conversion to Unionism was made all the smoother by the fact that he was already a Conservative, one of handful of the Home Rulers of the 1874 Parliament who sat on the government benches. Hicks-Beach regarded him as "really a staunch supporter" of Disraeli's ministry, which conferred costless distinction upon him: an honorary colonelcy and the office of lord-lieutenant of County Roscommon.[57] But his political affiliation was entirely consistent with membership of the Home Rule Party in the eighteen-seventies, which required merely a pledge, as King-Harman put it in 1873, to support "Home Rule and nothing but Home Rule". Indeed, he sarcastically dismissed proposals for a wider and more binding programme with what he regarded as a satirical absurdity: why not "pay your representatives and dismiss them after a week's warning as you would any other servant"[?][58] He remained to the end a supporter of Isaac Butt, although he seems to have stopped attending the party's occasional meetings by 1878. There would clearly be no place for him in the Irish Party of the eighteen-eighties, alongside Parnell's paid subordinates.
Parnell's condemnation of King-Harman at Manchester raises an intriguing question: what were the relations between the two during their brief period as fellow Home Rule MPs? They may not have encountered one another much before King-Harman entered the House in 1877: there was eight years difference in their ages, and King-Harman had been at his most active in the Home Rule movement in the early years of the decade, before Parnell entered politics. Nonetheless, they belonged to the same Ascendancy world: Parnell's aristocratic Wicklow neighbours, Viscount Powerscourt and the Earl of Carysfort, had been King-Harman's exact contemporaries at Eton.[59] Yet their political trajectories soon diverged. King-Harman was elected for County Sligo at the beginning of the session in which Parnell explicitly claimed that the party pledge did not preclude him from active involvement in non-Irish issues, joining a small group who engaged in parliamentary obstruction. In 1879, King-Harman quoted a comment made to him about a fellow MP who was "at that time rising into some public notoriety … I was told he was a hard hitter, a good block, a bold twister, but that he always quarrelled with the umpire."[60] This may have been a roguishly friendly allusion to Parnell – Hansard unfortunately tells us nothing about tone – probably by implication drawing upon tales that the young Parnell had unsportingly exploited the Laws of Cricket while captaining a local team.[61] Any pretence at mutual amiability was soon discarded. Parnell contemptuously dismissed the suggestion that he should contest County Sligo himself at the 1880 general election, indicating that King-Harman was beneath his notice. By 1882, King-Harman branded Parnell as an "arch traitor", which was a more serious charge than merely bending the Laws of Cricket. In 1886, he assured the House of Commons that loyalists "would never rebel against Queen Victoria, but they would never swear allegiance to King Parnell."[62] For his part, only once had Parnell perhaps demonstrated what may have been a favourable awareness of King-Harman's existence. In a conversation with William O'Brien in 1878, he condemned the Irish landlords as a class for their lack of achievement. The only thing they could boast about, he insisted, was their foxhounds, although he added, "perhaps … in the Roscommon country, their horses."[63] The throwaway comment has always seemed puzzling, since Parnell had no known associations with the county, and may not even have set foot in Connacht until late in 1877. One possible explanation is that the two country gentlemen MPs had chatted about the only subject of shared enthusiasm, horse breeding.[64]
The King-Harmans as landlords to 1879 The 1879-81 Land War completed the divergence between the political trajectories of King-Harman and Parnell. Parnell owned less than 5,000 acres, which yielded a gross rental of under £1500 a year. King-Harman functioned on a grander scale: 73,000 acres and a rent roll of £40,000 a year.[65] However, Parnell's income was so eroded by mortgages and annuities that his Avondale estate produced almost no net income. He responded by establishing a sawmill and developing quarries. In effect, Parnell turned himself into a building trade entrepreneur, which explains why, as a businessman, he wanted tenants to enjoy the benefits of the improvements they made to their holdings. But King-Harman's position was also less impressive than it appeared. His princely income was burdened by encumbrances amounting to annual charges of about £32,000, reducing his £40,000 gross income to a net figure of around £8,000. Unfortunately, no records survive for Parnell's business activities, and his contemporaries supplied little information, since they usually conformed to contemporary snobbery by deriding his involvement in 'trade'. However, it seems likely that by the late eighteen-seventies, he was making enough money selling sawn timber and building stone to make his rental income virtually irrelevant. Consequently, he may not have been unduly inconvenienced by demands for rent reductions, or even by refusal to pay altogether: he joked in 1882 that his tenants were "standing by the 'No Rent' manifesto splendidly."[66] By contrast even the short-term disruption of the Land War spelt disaster for King-Harman. Worse still, the 1881 Land Act (more accurately, the land courts that it created) permanently reduced his gross rental receipts by twenty percent, thus exactly wiping out that net annual income of £8,000. By the time of his death, it was well known that King-Harman was in financial difficulties.[67]
The logical solution for both men would have been to liquidate their encumbrances by selling their non-demesne properties, preferably to their tenants. Parnell did attempt to sell his Avondale estate in 1883, but his tenants were so horrified at the prospect of losing his gentle overlordship that they launched a subscription to bail him out, which grew into the national Parnell Tribute. It is likely that only through a large-scale State-funded purchase scheme could King-Harman's tenants have afforded to make the transition to peasant proprietorship. Even if they had been willing to embrace such a novel idea, no such funding was available in his lifetime, although the 1885 Ashbourne Act was a pointer to a future that neither King-Harman nor Parnell lived to see.[68] There were, too, economic and cultural differences stemming from locale which helped shape their differing responses.[69] Parnell was a relatively minor player in a county which, by the admittedly modest standards of post-Famine Ireland, had a reasonably sophisticated economy, benefiting both from its proximity to the Dublin market and by its ability to trade with Britain. The stagnation of the city centre described by King-Harman was caused not only by the flight of the landed classes to Britain, but had also happened because Dubliners themselves were decamping to comfortable (and newly built) Victorian suburbs. Westminster's inability to make time to pass enabling legislation for the upgrading of Arklow harbour provided Parnell with one of his first Home Rule causes. By contrast, King-Harman was one of the two largest landowners in a predominantly agricultural county, with much of its farming close to subsistence levels, and relatively few resident landlords to provide leadership and support. As a result, a form of regional chieftainship devolved upon him, with broad responsibilities towards tenant welfare that he dutifully shouldered during the Famine winter of 1879-80.[70] However unrewarding financially or – after 1880 – emotionally was the role of paterfamilias to an increasingly unappreciative peasantry, King-Harman no doubt felt tied to his inherited destiny. No such constraint affected Parnell.
King-Harman inherited two estates at his father's death in 1875, Rockingham, with 42,000 acres of land in Roscommon and Sligo, which he had been managing since 1871, and Newcastle, with 30,000 acres, mostly in County Longford.[71] Put in the simplest terms, Rockingham was burdened with over £200,000 in mortgages, and "belonged more to the money-lenders than to the [King-]Harmans".[72] The mansion, one of the finest in Ireland – in Edwardian times, it briefly became the viceregal country residence – was also massively expensive to maintain. In effect, Rockingham was kept afloat by Newcastle, which had been well run by the paternalist King-Harman senior since he had inherited it 1838. Although he considered selling Newcastle in order to wipe out the accumulated debt on Rockingham, King-Harman senior could not part with his home.[73] In 1874, he entailed its succession to King-Harman and his son's male heirs, providing for it to pass to his own younger sons in turn should that line fail.[74] The death of King-Harman's heir, still a bachelor, in 1886 threw the future of Rockingham still further into doubt. When they took over in 1871, the King-Harmans attempted to put Rockingham on a business foundation. Rents seem to have been under-collected by over £2,000 a year. The accumulated debts were consolidated to reduce interest charges. Like Parnell, and at almost the same time, they began the aggressive exploitation of the timber on their own demesne, although resource development did not replace reliance upon rents.
Although it was subsequently argued that average figures obscured anomalies and injustices, they may throw some light on the pressures faced by farmers on the King-Harman estates.[75] The 1,386 tenants in Roscommon and Sligo occupied farms of about 30 acres: average holdings were slightly higher in Sligo (34 acres) than in Roscommon (29 acres). They owed annual rents of £18.1 in Roscommon and £14.5 in Sligo. County Longford tenants of the Newcastle estate also held farms of about 34 acres, and paid average rents of £17.3.[76] There are some puzzling inconsistencies in these figures. The difference between the two counties in the Rockingham portfolio is not easily explained: the average Sligo holding was slightly larger but paid less. Of course, average figures do not account for quality of land. As King-Harman explained in 1881, "the hillsides can only be worked by spade labour," making necessary smaller upland farms of around fifteen acres.[77] The statistics are probably also complicated by the fact that some of the acreage was bog land, of almost no use for farming, but complicated by a long-running dispute between King-Harman and local farmers over the right to cut turf for fuel.[78] Agriculture in Leinster was generally regarded as more advanced and more prosperous than in Connacht, and King-Harman himself frequently drew contrasts between his two estates in his evidence to then royal commission on agriculture in 1881.[79] Yet his rents in Longford averaged around ten shillings an acre, twenty percent below the rates charged in Roscommon. Inconsistencies like these would provide the land courts with opportunities to slash rents altogether.
It is virtually impossible for historians a century and a half later to assess how far these rents were a burden, and arguably it may be presumptuous even to try. J.J. Lee, no apologist for the Ascendancy, dismissed "the argument that excessive rents prevented accumulation of capital" before 1879, while the slow pace of rural change after 1881 confirmed that "rents had not proved an intolerable disincentive previously".[80] While the general picture may be reconstructed, at a practical level it does not seem that individual farm accounts have survived. More to the point, posterity does not have to find the cash. The massive inflation of the intervening period makes it difficult to appreciate today what an annual outlay of £18 might mean for a family, and how it would relate to overall prices. One possible comparator might be the salary of a National [primary] schoolteacher, which, in 1876, was £32 a year for a man, £25 for a woman.[81] The indicator tells something about the value of money, but noting that the average King-Harman tenant paid half a schoolteacher in annual rent does not tackle the subjective question of whether farmers felt the burden was reasonable.
At the very least, rent statistics remind us that even the most self-sufficient of family farms had to operate within a wider money economy. Not only were tenants dependent upon successful harvests and buoyant prices, but their income stream came in annual floods. For much of the year, they were necessarily dependent upon credit, reliant upon the business acumen of shopkeepers and dealers in supplying goods against subsequent payment. King-Harman argued that it was not landlordism that hurt the rural west of Ireland, but the expansion of debt that was, ironically, consequent upon a gradual increase in living standards since the region had recovered from the Famine of the eighteen-forties.[82] "For several years past," he wrote in 1879, "credit has almost been forced upon the people; the Gombeen man, or village usurer, has woven his webs in every neighbourhood, and shopkeepers have vied with each other in giving long credit for frequently inferior and adulterated articles".[83] The banks were even worse offenders, extending their branch networks into small towns and advancing money, often charging over ten percent in interest. When the harvest failed, the structure seized up, "not a shilling will be advanced, not a mouthful of meal or a bag of manure will be supplied without ready money."[84] Arguably, King-Harman confused the symptoms with the disease. No doubt, there were grasping merchants,[85] but many small-town shopkeepers had close links with the rural community: it may well have been a family farm that had supplied the capital required to get into retail trading. One of the striking features of the Land War is that it did not pit country against town: Land League officials were often urban residents, and few market centres in the west of Ireland were much bigger than villages anyway.[86] In the crunch winter of 1879-80, it was obvious that something had to go, and the farmers had little hesitation in turning upon their landlords, not their creditors. Perhaps rather than focusing upon the indebtedness that they encouraged, King-Harman should have noted that the shopkeepers had expanded opportunity by extending credit in the first place. His disdain for the "inferior and adulterated articles" that he claimed they supplied contained a hint of disapproval that the supposedly simple peasantry should be seeking inappropriate material comforts. His insistence that the tenant was a "simple man" who "deserves to be more protected from the shop-keeper and the gombeen man than from his landlord" was patronising and self-serving.[87]
King-Harman senior had been praised as "an excellent landlord". Even the Freeman's Journal praised his "untiring and unabating exertions" for local improvements in County Longford. For instance, he presided at the monthly meetings of the Ballymahon Farmers' Club, where cultivators of the soil sat through lectures on topics such as "Preparation of manure for green crops" and "Why the Irish are not advancing as other nations".[88] Balfour was later to claim that between 1843 and 1879, there were only 21 evictions from the 850 tenancies on the Newcastle estate. While he did not engage in fancy arithmetic, he clearly implied that one failure for every 1,457 tenant-years – over a period that included the Famine of the eighteen-forties – indicated a benign landlord regime.[89] It was a model that helped inspire King-Harman's attempt to enter politics in 1870. "Tenant-right has been the practice on my father's estates, and I wish to see measure enacted to compel bad landlords to do that which is already being done by the good."[90] Nor was this mere electioneering. In private he delivered "indignant denunciations … [of] the heartlessness of his friends and his family towards the Irish poor".[91] He condemned absentee landlords, but regarded as "the greatest curse in Ireland" their use of absentee agents, "who know nothing whatever of the circumstances of the tenants, who simply send down a clerk with a black bag with orders to take away as much as he can get, and bring it back to Dublin."[92] King-Harman also targeted the "oppression" caused by middlemen, "a most grasping set of men, and they grind the poor terribly". However, it is not clear whether the problem was widespread: he seems to have given at least three outings to one tale of a tyrannical parasite who treated his sub-tenants like serfs.[93]
As already outlined, in 1875 King-Harman inherited not just broad acres but also an insoluble burden of debt. "He was in a better position before he became great landlord." Yet even a cynical observer accepted that he tried to act according to his beliefs. "He used to say that he treated his tenantry better than they were ever treated before, but that was not saying much."[94] By the time he was elected to Parliament in 1877, his enthusiasm for land reform had cooled. True, he criticised the widespread English belief that "the Land Act of 1870 had effectually settled this question", adding that "a vast amount of good that might have been done by the Act of 1870 was left undone and untouched." However, he gave only grudging support to the annual manifestation of Butt's tenant right bill, acting in conformity with pledges he had given during the Sligo by-election – a safe enough strategy, as the proposed legislation had no chance of making progress.[95] He still believed in the principle that a tenant should have the right to sell his holding, but admitted that there were restrictions to its practical operation on the King-Harman estates. "We always allowed that the tenant had some interest in his holding, and we allowed that to be sold, subject to the approval of the estate office, both as to the purchaser and as to the price. I do not allow 'auctioneering'." He had even come to question the assumption that a tenant was entitled to enjoy the full benefit of any improvements he made to his farm, "because if I had not let him that land, I might reasonably have improved it and made more of it."[96] No doubt we should all like to be rewarded for the projects that we might have undertaken. This convoluted assumption was presumably the pained product of the financial constraints in which he found himself trapped. He was hardly more enthusiastic about the possibility of escaping from the prison of landlordism by phasing himself out altogether. While he welcomed the purchase of land by tenants, he envisaged only a restricted scheme, and one in which the incumbent purchaser had to make a down payment of twenty to twenty-five percent of the price. It was precisely this obstacle that had limited the uptake under the purchase clauses of the 1870 Act. "The work would, of course, have to be carried out gradually – say, at the rate of 1,000 tenants per annum". It is doubtful whether the interests of the purchasers really weighed very heavily with him: "the landlords were also much interested in the subject … they would be very willing to have their outlying property taken off their hands in the way proposed."[97] Fundamentally, land purchase was another noble idea that simply did not work. "I am a strong advocate for it on principle, but whatever practice I have seen of it is bad."[98] By the close of the eighteen-seventies, King-Harman advocated no overarching project capable of resolving the inherent problems of the Irish land system. Like his vision of Home Rule, his conception of property ownership assumed the continuing dominance of the Ascendancy. When the country was engulfed by crisis between 1879 and 1881, others would seize the initiative, imposing their own radical alternatives both upon the Irish countryside and, subsequently, upon the concept of Home Rule.
King-Harman and the Land War, 1879-1882 The winter of 1879-80 would be King-Harman's finest hour. In his efforts to fight famine, paternalist landlordism showed itself at its best. Ironically, this happened at just the moment when it was about to forced aside, with the clear implication that it would be swept away altogether. There were two principal routes to the attention of Britain's decision-makers, the House of Commons and the columns of The Times. King-Harman used them both. His letter to The Times in mid-November 1879 was one of the first authoritative warnings that "not only dire distress but absolute famine is pending in many parts of Ireland". The letter was poorly structured, repetitive and contained too much minor detail about the recent harvest, but its central message was brutally clear: in many districts, the potato crop had failed ("the potatoes will not last until Christmas") and "the sudden collapse of the credit system … will bring famine to the doors of thousands". "I deem it my duty to let the people of England know that starvation threatens … I see no means of averting a terrible catastrophe if the Government does not intervene".[99]
"On my own property, there will be poverty this winter, but, I trust, no crisis that landlord and tenant working together will not be able to tide over; but it will cost us a sore struggle," he had predicted in November. At the end of December, he repeated his warning that "famine is now at hand", and outlined some of the challenges facing landlords who sought to respond. While expressing embarrassment at being "my own trumpeter", he spoke for landlords like himself who were borrowing heavily from the Board of Works to finance relief projects. In doing so, they were "curtailing their own incomes and burdening their generally heavily-charged estates." High interest rates were a deterrent. "Six-and-a-half-percent is no light sum to face, especially on properties where not one-third of the rent is being paid." Bureaucracy was an additional curse: King-Harman had been compelled to prove his title to the Rockingham estate ten times in support of ten loan applications for specific projects. He regarded the short-term solution as obvious. The legislation that had disestablished the Church of Ireland had diverted some of its endowment into a fund that was "available to meet any pressing calamity in Ireland, and I fail to understand how any national calamity can be more pressing than famine."[100] He followed these missives with a dramatic intervention in the Commons debate on Ireland in mid-February 1880. He claimed that he had not intended to speak, explaining that he had travelled from Ireland to be present "at great personal inconvenience from the post of duty" where he had been "engaged in taking his part in the relief of the distress existing in Ireland, trying his best to render the condition of the people as little painful as possible." He spoke, as so often, in defence of his fellow landlords, who had come under attack. "The question before them was a pressing one – the relief of distress, and they ought not to delay its settlement by any discussion as to the policy which had led to its existence." With trade and agriculture depressed in England and Scotland, it was unfair to ask the British taxpayer for help while the Church of Ireland surplus was available for distribution. His appeal to the House to pass the necessary legislation was probably the most influential parliamentary speech that he ever delivered. It was certainly one of the very few to be cited with respectful approval by other MPs as the debate progressed.[101] King-Harman's standing as a result of his benevolent activities was recognised even across the Atlantic. The New York Herald had established its own appeal for Irish famine relief. Its powerful proprietor, James Gordon Bennett, Jr, appointed King-Harman to a four-person committee in charge of distributing the funds.[102]
Of course, King-Harman's attempts to mount relief projects took place alongside the sudden eruption of agrarian insurgency. As the Land League was taking shape in the autumn of 1879, he denounced trouble-makers whose denunciations were "calculated to mislead the people, to injure the cause that they profess to advocate, and to embitter the relations between classes of people whose interests should be bound up together. … The result has come but too quickly. Threatening letters, brutal outrages, and, lastly, an attempt at murder…. The cause of these terribly sad events can only be found in the speeches of reckless agitators." Appealing for the sympathy of a British audience, he more moderately dismissed the Land League campaign as "senseless agitation" – "tomfoolery" would be a later and more bad-tempered description – although he roundly condemned as "heartless traitors those who would set class against class and make political capital out of the sufferings of our fellow-countrymen."[103]
For a brief period that autumn, King-Harman seems to have hoped to be able to contain the emerging land agitation, even agreeing to take the chair at a mass meeting of Roscommon farmers. His intention, in accordance with his belief that the economic problems of the countryside stemmed from the credit network and not the landlords, had been to steer the protest into demanding a general review of rural debt. The breach came on 3 October, when he objected to the resolutions that were to be discussed at the meeting. Three months earlier, he had warned the House of Commons that the small farmers of Ireland were "a class of men who were despondent and rapidly becoming dangerous". In an atmosphere of outrages and anonymous threatening letters, he now argued that such a public meeting could only push "an already suffering people" towards "bloodshed and ruin". Sixty years later, the Folklore Commission found an echo of the local crisis. It was said that "Colonel King Harman had his horses dressed in green", ready to make a grand patriotic appearance at the gathering, when his agent Colonel Robertson warned him that he would be shot if he attended. Nonetheless, with becoming deference, the gathering waited for three hours in the hope that he would turn up.[104] Much of this was at least embellishment and probably outright invention, but the survival of such tales indicated that King-Harman's decision to withdraw from the meeting was remembered as a significant event.
In the winter of 1879-80, King-Harman feared that the widespread distress might trigger "even miserable attempts at rebellious risings". He was unimpressed by the argument that the Land League provided the discipline that contained violence: in July 1880, he conceded that Leaguers enforced their edicts by subjecting backsliders to "hooting and jeering" at markets, but he pessimistically expected that attacks on cattle "will probably be the next thing".[105] Always personally courageous, in one of his last outbursts in Parliament he would indignantly reject an insinuation that fear had driven him into the Unionist camp: "whatever other accusations might have been made against him, he had certainly not expected to be taunted with cowardice." Emerging from his house one morning during troubled times – probably in the aftermath of the Phoenix Park murders – "he found an enormous policeman on his door-step." When he queried the need for a police guard, he was assured not merely that his life was in danger (which he doubted) but that he was being accorded the honour of the same level of protection as Gladstone's cabinet ministers. "For God's sake, do not confound me with any of those people," was his indignant riposte.[106]
The fraught winter of 1879-80 closed with the complication of a general election. The senior member for County Sligo (which returned two MPs), Denis O'Conor, had first been elected as a Liberal in 1868, before rebranding himself as a Home Ruler in 1874. He had done just enough in Parliament to make him acceptable to the advanced Nationalists, but Parnell was determined to win the county's second seat. On his return from the United States in March 1880, the Uncrowned King found that his supporters in Sligo planned to nominate him, believing he was the only Nationalist candidate who could be relied upon to prevent King-Harman from continuing "to insult and misrepresent the constituency". Parnell contemptuously dismissed this as a waste of his energies, arguing that "at least twenty other gentlemen" could defeat the Colonel.[107] He initially suggested T.M. Healy, his secretary during the North American tour, but the choice eventually settled upon his ally Thomas Sexton. Since Sexton was a Dublin journalist and a Waterford man in origin, imposing him upon Sligo ruffled some feathers. Among those offended was Patrick Sheridan, who probably cherished some hopes of the nomination himself. Seven years later, King-Harman was provoked into revealing a strange episode, in which he alleged that Sheridan had offered to use Tory money to split the Home Rule vote by standing himself. King-Harman ignored the initiative, while demoting Sheridan from the status of rascal to that of scoundrel.[108] The trick might even have worked: a similar split in the Home Rule vote enabled his friend Arthur Loftus Tottenham to slip in as the Conservative MP for Leitrim. It would certainly have been worth attempting in Sligo, where, in the event, King-Harman, with 1,250 votes, came respectably close behind O'Conor, with 1,500, and Sexton, who headed the poll with 1,550. Five years later, when Sexton mocked his rejection by the voters of Sligo, King-Harman significantly retorted: "I had the Protestant vote behind me."[109]
During the campaign, King-Harman received a strong endorsement from a perhaps unexpected quarter. Father Luke Carlos was the parish priest at Ballinameen, about seven miles south of Boyle. Insisting that he was in no way dependent upon Rockingham or its owner, he praised the work of King-Harman and his "noble family" during "the terrible crisis currently prevailing". King-Harman himself he even likened to St Vincent de Paul, while the landlord's brother, who the priest thought was a Naval officer, spent his time "going about seeking, miles from home, poor, sick, distressed creatures, to whom he brings relief and comfort." Nineteen landlords owned property in his parish, but "to my poor parishioners, Colonel King-Harman is worth more than the whole lot of them put together." Fr Carlos hoped that he would be re-elected to Parliament. "It would be a mistake not to send such a man to fight for his country's rights and Home Legislature – the good landlord, the friend of the poor, and decidedly a lover of his country."[110] Unfortunately, the electors of Sligo decided not to vote for the man who was doing so much for Roscommon. Soon after, King-Harman told Captain O'Shea that he was "glad of his beating", although Willie O'Shea doubted that he meant it.[111] His three-year absence from Parliament would at least help to screen his dramatic transition to out-and-out Unionism.
Despite his defeat, King-Harman still saw himself as the paternalist suzerain of his tenantry. He acted as an arbitrator in disputes between neighbours and within families, helping them to avoid lawyers and courts. He believed that a resident landlord could have "a good effect" within the local community, even if contact with his neighbours was limited to "a day's partridge shooting". "They are a very sensitive people, and just a little word of encouragement, saying, 'Well, that is a good crop of oats', and so forth, the man will remember it and speak of it years afterwards." It does not seem to have occurred to King-Harman that farmers resented the trampling of his crops by their landlord, his friends and his dogs, nor that they might have dreamed of poaching a partridge in their own pot. But King-Harman felt bound by estate customs himself, for instance accepting an obligation to contribute to house-building: "if a tenant puts up the walls I find the timber and slates".[112]
Through such practices, landlordism had traditionally secured acquiescence: paternalism and deference were two sides of the same coin, for each required the other to function profitably. Deference would certainly have been dented by the Land War, but it may not have been destroyed altogether. One landmark in the Rockingham calendar was the celebration of harvest home, the subject in 1881 of a lyrical letter to the Irish Times from a tenant, John Skeffington, who wanted "all Ireland to know what a kind master we have". Over one hundred men had been entertained to dinner, with the King-Harmans, Saturnalia fashion, waiting at the tables. King-Harman praised his neighbours for their "good and manly behaviour" during the recent agitation, even though they had been "taunted and sneered at by some foolish people". The meal was followed by sports, such as sack races, with King-Harman acting as judge and awarding cash prizes. In the evening, their womenfolk joined them for a dance, in which the landlord's family joined in, with "cakes, punch, ginger beer, lemonade &c" in generous supply. "I shall never forget the day," wrote Skeffington. "God bless the Colonel and his family."[113] The letter was so embarrassingly unctuous that the influence of the Big House might be suspected. However, it has been argued that the Land War interrupted rather than destroyed the "habits of respect" that bound farmers to their landlords. In 1884, King-Harman's tenants – or some of them – subscribed for a portrait of his son Laurence, part of the traditional coming-of-age ritual of the heir.[114] King-Harman continued to persuade himself that landlords like himself were regarded as "good fellows". Indeed, even when his tenants confronted him en masse to demand an abatement of rent, they shouted encouraging phrases like "you were always a grand man".[115] There is no necessary contradiction here. In a universe in which landlords were a permanent fixture, country people were certainly better off with the King-Harmans at their back or even on their back than with most aristocratic or gentry alternatives. Hence they accepted some measure of deference as being in their own interests: 'God bless the Colonel and his family' was a mantra for the safeguarding of themselves. But once legislation created an alternative cosmos in which tenants could in effect dictate the terms of the relationship, and maybe even glimpse the eventual elimination of landlordism altogether, then deference became a negotiable quality, and one that was liable to crumble into nothing.[116]
When, in the summer of 1880, King-Harman learned of the proposed terms of what would become the 1881 Land Act, his initial response was a terse threat that if the measure passed into law, he would close down his relief projects, discharge the labourers employed and leave the country.[117] Contemporaries did not appreciate that an eighteen-stone ex-Army officer was issuing a cry for help: the Pall Mall Gazette condemned his "petulant spirit", doubted that he would act upon his ultimatum and curtly noted that "if he does, he will not take the land with him".[118] Even the prospect of legislation, contested as it was throughout the winter of 1880-81, was enough to disrupt the delicate intertwining of deference with paternalism. The emerging realignment of rural forces was demonstrated in the confrontation between King-Harman and his tenants on New Year's Day, 1881.
It was a Saturday, market day in Boyle, the town full of farmers determined to lobby their landlord. Land League organisers were in the background, but the demonstration seems to have been essentially spontaneous, perhaps something that had grown out of Christmas visiting among neighbours and within the extended cousinhoods of a rural society.[119] King-Harman was given no advance notice of a deputation, but rumours of its manifestation led him to position himself at the estate office that he maintained in town and await developments. Between three and four hundred tenants attended evening Mass, and then marched through Boyle, military fashion, behind two local bands. Confusion ensued when King-Harman stepped out into the street to meet them, to be "received with every mark of respect [,] cheers and waving of hats". The farmers had hoped their priests would speak for them but, while the clergy may not all have shared the enthusiastic admiration of Father Luke Carlos, they were obviously not willing to become involved. Instead, an "elderly man" called Michael McGreevy stepped forward to speak for them. In fact, McGreevy was in his late fifties, no doubt weather-beaten from a lifetime on the land. He occupied 45 acres on the Roscommon-Sligo border, thus possessing both the seniority and the acres to act as spokesman.[120] McGreevy "paid a high compliment to the gallant Colonel as a landlord", condemned his abuse by "paid underlings and mischief-makers" and insisted that they approached him "respectfully". But McGreevy's demand was uncompromising: farm families were "living on three meals a day of yellow stirabout" (thin oatmeal porridge), and they demanded a twenty-five percent abatement of their rent. "Less we will not take," one man shouted.
There was more cheering when King-Harman asked for a "fair hearing" in return. He argued that his rents were already below Griffith's Valuation, the usual benchmark for rent reductions.[121] He pointed out that he was no evicting tyrant: "who have I distrained for rent ... whose crops have I seized? ... Whom have I evicted?" Not only had he reduced rents – admittedly, in some cases rescinding his own previous increases – but he had supported his poorer tenants, "giving them quantities of seed oats and potatoes, free, gratis and for nothing." He was prepared to consider genuine cases of hardship – a safe enough promise since he also pointed out that "the tenants had fine crops last harvest, and that nearly all could pay the rents asked of them, and live comfortably afterwards", to which a heckler shouted "No!". "But I cannot give way to intimidation and threats", a reference not to mass lobby but to the menaces of agitators. There were plausible debating points in all of this. But one key sentence struck to the heart of the relationship between landlord and tenant. "If he gave a general reduction of twenty-five percent, he could not meet payment of the general charges upon his property." In the last resort, the farmers of Roscommon were required to pay for the extravagant sins of King-Harman's forebears that had burdened the estate with such suffocating debts. The confrontation broke up with Land League agents advising the farmers "to hold their money unless they got their own way."
A detailed examination of the frequent parliamentary returns of the determination of judicial rents, not attempted for this study, will no doubt tell much more about the assessment of individual holdings: for instance, King-Harman was criticised for appealing to average figures calculated from Griffith's Valuation, since some of his farms were allegedly let at unjustifiably high rents.[122] Overall, however, there can be no doubt that rent reductions wiped out his surplus and left him with virtually no net income. One indication of the financial pressure upon was the increasingly intensive exploitation of the timber resources on the Rockingham demesne. When he passed through in 1886, Wilfred Blunt, admittedly not a friendly observer, noted the "dismal" appearance of the parkland, scarred by large-scale felling. Locals told the story of King-Harman driving a poacher off his land, cursing him to Hell in the process. The interloper replied, "If I go there, I will tell your grandfather you are cutting down the trees at Rockingham."[123] It needs to be remembered that, for the last half dozen years of his life, King-Harman was in receipt of little if any income as he pursued his political career. Indeed, his personal fight-back was driven by his sense of the inherent unfairness of the land court system. "It was well known that the rack-renting landlord had his rents reduced in no larger proportion than the landlord who had been the friend of his tenants."[124] Characteristically, he scoffed at the absurdities of so-called experts, especially the "roving Commissioners" who supplied the land courts with what he regarded as arbitrary valuations. One had assessed two farms within twenty minutes – at around half past four on a December afternoon. Another had pushed his stick into the ground, and then ran it along under his nose to sniff the soil – King-Harman likened him to a cheesemonger assessing the maturity of his cheddar – before pronouncing "fifteen shillings an acre".[125] There was an element of self-parody in this. King-Harman was widely known, if with declining affection, as a larger-than-life personality whose mere existence contributed to the jollity of life. As the clown turned towards tragedy, it may be useful briefly to look at his public persona.
"… the biggest hat in Parliament": 'Spy' in Vanity Fair, 1886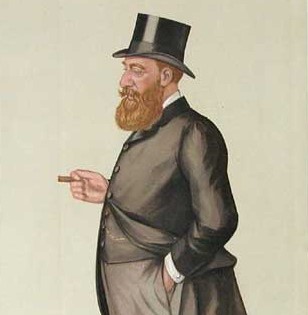 Even a critic of King-Harman's abandonment of Home Rule slipped into hiberno-cliché to describe his early years. "The 'young masther', as he was called, could take a part in a hurling match, or a football match, or dance a jig as well as any 'gossoon' along the countryside."[126] Vanity Fair took the process further when it featured King-Harman in 1886, for the magazine liked to place all its caricatures in a world of jovial unreality. "He is a fine specimen of that marvellous and admirable creature, the Irish gentleman. Big, handsome, courageous, convivial, honest, kindly and bursting with animal spirits, he is equally ready with the sword, the shillelagh, or the tongue for any fight that offers the least chance of 'divarshun'; yet he is nevertheless soft-hearted, impressionable, free. And generous; a good Samaritan with the bearing of a swashbuckler. … He shoots better than most men, smokes a pipe, and wears the biggest hat in Parliament." Henry W. Lucy of Punch thought he was "rather distinguished for muscle than brains" and likened him to "a character that had stepped from the pages of one of Charles Lever's novels".[127] King-Harman sometimes played to the image. In 1878, he opposed legislation designed to protect ancient monuments. Most, he said, were "cairns on the top of high hills, which were held sacred by the peasantry as tombs of kings and queens, and were now in no danger of desecration". He was against handing them over to the custody of archaeologists in Dublin, who would launch excavations and return "flourishing the thigh bone of an ancient Irish King or Queen, just as a German archaeologist had recently got hold of the thigh bone of Agamemnon." So much for the work of Heinrich Schliemann. Six years later, King-Harman was equally dismissive of a bill to prevent cruelty to animals, using the classic reactionary ploy of condemning not what it specifically aimed to achieve but what it might become, a precursor of legislation under which "fishermen would be imprisoned, butchers would be hung, and we should all be ridden over by rampant vegetarians".[128] In 1883, vegetarians hardly represented a threat to carnivorous Britain.
Unfortunately, this amiable picture of King-Harman was not just exaggerated but, increasingly, the reverse of the truth. "His rent-roll and friends are numbered by thousands," said Vanity Fair: the description of his income was insensitive, since it was widely known that "his private fortunes" were "troubled".[129] In reality, the collapse in his income plunged him into depression verging upon despair. "He was no longer the jolly companion nor the generous friend. … when he became a Tory his whole being seemed to change. … He was morose and sinister; all his better nature seemed to have left him".[130] Of course, Conservatism did not cause King-Harman's contrariness: even in his Home Rule days, his politics had been Tory. Rather, it was the Land War that had cost him both status and financial security, leaving an enduring mark upon his psyche. Vanity Fair was also out on a limb in claiming that "even his enemies the Nationalists look not unkindly upon him". There was not much sporting disagreement in his relations with the Parnellites. The verdict of a Melbourne newspaper that "he released his former political associates from the claims of friendship, and became a traitor to them and to his country" almost certainly reflects Irish inspiration, given unvarnished expression on the other side of the world.[131] To counter his previous reputation as a paternalist, Home Rulers set out to portray King-Harman as "engaged in a constant war with his tenants", and his estate management as "a story of landlord oppression and tenant decay scarcely with a parallel in Ireland."[132] In earlier years, his "splendid physique" was "much admired by the peasantry", while he "could not walk through the streets of Dublin without drawing in his train an enthusiastic mob."[133] But even physical veneration was swept aside, and he was turned from Adonis into dinosaur. In 1883, J.J. Clancy dismissed King-Harman as "a gentleman with the body of a hippopotamus and the brains of a goose". Four years later, a Home Ruler speaking in the House of Commons refused to retract the description "pachydermatous ... rhinoceros-like", on the grounds that it was purely factual.[134] Knowing that he was "nearly always ready to boil over", Irish MPs enjoyed baiting him, but it would be a mistake to see any spirit of friendliness in exchanges such as that with Timothy Harrington one parliamentary night in 1884. "We have not done with you yet," Harrington interjected into a King-Harman diatribe. "No; they had not done with him yet," came the reply, "and he could assure them that it would be a long time before they had done with him. In Parliament or out, in England or in Ireland, in the North or in the South, he could assure them that they had not done with him yet, much as they might desire that consummation."[135] Behind the cartoon conflict, there loomed a fight to the death between King-Harman and his foes, a fight that would indeed help kill him just four years later.
King-Harman fights back, 1882-83 If 1881 had opened with the mass revolt of the Rockingham tenants, King-Harman was determined that 1882 should be the year of the fight-back. Buoyed by an attendance of several thousand landlord representatives at a mass rally in Dublin's Exhibition Buildings on 3 January, he delivered a rousing speech calling for unity as the basis for resistance. "They had been struck down one by one while others looked on. In many parts of Ireland it seemed to be a race with the landlords who should give in the quickest. Let it now be with them a point of honour who should stand stoutest, shoulder to shoulder." This was rousing stuff, welcomed by an audience that had heard little to cheer throughout the preceding months. But King-Harman threw in a distasteful garnish of sneer snobbery. Had they been beaten "by men of unexampled talent and great experience? … They were the educated class, and they had been struck down by the men of little education."[136] The comment was not only unpleasant, it was also obtuse. The great change between popular reaction to the crisis of 1879-80 and the Famine of the eighteen-forties lay in the well-known saying that the schoolmaster had been abroad, up and down the west of Ireland. The National Schools had created a generation that was largely literate, responsive to new ideas and capable of political organisation.[137] Maybe Land Leaguers had not spent their formative years learning how to balance the syllables of Latin verse,[138] but it was a mistake to dismiss either their knowledge or their comprehension.
King-Harman supported projects such as the Property Defence Association, which was followed by an attempt to establish the Land Corporation of Ireland.[139] This latter project was the brainchild of the impressive and cerebral Carlow landlord, Arthur MacMorrough Kavanagh.[140] The scheme called upon property owners to invest in a company designed to fight the Land League. For instance, where a tenant's goods were distrained for unpaid rent, the League imposed a social discipline that ensured that only the original owner made bids, at derisory prices, when the items were subsequently auctioned. The tenant thus recovered his property, while the landlord lost his rent. Agents of the Land Corporation set out to force up the bidding. King-Harman promised to invest £1,200, money he could hardly afford.[141] Seven years later, Balfour master-minded a similar project, headed by A.H. Smith-Barry, to break the Plan of Campaign. This succeeded partly because the Plan was collapsing anyway, but mainly because it had targeted only a handful of estates.[142] The Land Corporation project failed because it had to fight on a national scale, bearing out Kavanagh's grim prediction that Ireland was not big enough to contain both Land Leaguers and landlords. Furthermore, although Kavanagh pointed out that a limited company, unlike a landlord, could not be shot, its agents would have required police protection. In the aftermath of the Kilmainham Treaty, Gladstone's government was unlikely to disrupt its fragile alliance with Parnell by going out of its way to provide the necessary support.
King-Harman followed the Dublin rally by an initiative of his own, designed to open up a new front against Parnellism on the public platforms of England and Scotland. Some of the meetings he addressed were explicitly Conservative gatherings, but in Blackpool he spoke to Orangemen, while an address delivered in Glasgow to a body called the Patriotic Association, and which ended with the cry "No surrender", was heavily imbued with memories of the Boyne. At Frome in Somerset, he delivered "an effective speech". At Handsworth in Birmingham, he described Ireland as "in a state of anarchy, bloodshed, rapine, and revolution", all of which he blamed upon the Liberal government. Parnell and his lieutenants were interned at the time, but King-Harman indignantly asked "if the Land League meetings were illegal after Mr Parnell abused Mr Gladstone, why were they not illegal before?"[143] His address to the Conservative working men of Oxford illustrated many of his recurrent themes. King-Harman proclaimed himself "an Irishman to the backbone… an honest and loyal Irishman. He loved his countrymen and until two years ago that feeling was mutual between them. But a sad and terrible change had come." That "arch traitor" Parnell had presided over a system of violence and extortion. Some farmers paid more in Land League dues than they had ever owed in rent, "and where was Mr Patrick Egan, the treasurer of the League, and the leaders of that body? In Paris, living a luxurious life, while their unfortunate dupes had lost house, and home, and friends, and were cursing the day they joined the League." He claimed to speak not merely for the landlords, but for one and a half million loyalists (a coded term for Protestants), plus "at least a couple of millions more" bullied into silence by the campaign of intimidation that, on occasion, had prevented the shunned even from burying their dead.[144] The massive Nationalist vote in the general election of 1885 would put paid to that fantasy.
From Rathmines to Ramsgate: the trajectory of King-Harman's Unionism, 1883-1886 "I have gone over the length and breadth of England to declare that there exists in Ireland as large a body of loyal Irishmen as can be found in the world," King-Harman claimed in February 1883.[145] It is likely that his oratorical forays across the Irish Sea were also designed to explore the possibility of returning to Parliament via an English constituency. However, the death of Colonel Thomas Taylor in February 1883 opened a vacancy in County Dublin, one of the few reasonably safe Conservative seats in Ireland. Taylor was a veteran who had represented the County since 1841: indeed, he had been at Eton with Parnell's father, as he haughtily recalled when the young squire of Avondale challenged him in 1874.[146] He served under Disraeli, and it is a remarkable commentary on the Union that he was the last MP from a territorial constituency in the twenty-six counties to hold office at Westminster. Some Dublin suburban Tories seem to have resented King-Harman's nomination to succeed him.[147] Possibly there were memories of his electoral outing under very different colours in Dublin City thirteen years earlier. More likely he was regarded as an outsider, although he seems to have been a familiar figure in the capital, "a personality in the Kildare Street Club" in the words of Balfour's biographer.[148] In the event, he was elected on 27 February by 2,514 votes to 1,428 for a Home Rule candidate – much the margin by which Taylor had defeated Parnell at the last contested election in the constituency.[149]
During the County Dublin by-election campaign, King-Harman avoided apologetics for his Home Rule past by the simple expedient of ignoring the subject altogether. However, it was a sign of the hardening of his personality that he spoke of the possibility of social violence with grim relish. Addressing an election meeting at the Rotunda, he reported that friends in England often asked him if rebellion was likely in Ireland, to which he invariably replied: "I have not the slightest hope that there will be such a thing." This drew laughter, which gave him his cue to utter a serious but threatening message. "Do not think for a moment that I wish for such a crisis to come. God knows bloodshed – civil war among Irishmen – is too terrible a thing to be spoken of in jest" but it was important to make the point that "the body of loyal Irishmen was too strong and too solid to permit the rebels to show their noses."[150] In January 1884, he touched upon the subject again, telling the Tories of the Dublin suburb of Rathmines that he was opposed to civil war, but conceding that "the sooner it came the sooner it would be over". Most of his speech was a detailed, if immoderate, warning of the risks of franchise reform, but he closed with a dramatic warning: "they might depend upon it their enemies were always ready to upset them if they could, and it was their business to have the watch fire kindled, the sentry at his post and the cartridge in the rifle." The language was figurative, but it was also foolish. Stream-lined to "Keep the cartridge in the rifle!" and described as an appeal delivered to Orangemen, it gave T.P. O'Connor the opportunity to demand his prosecution for sedition.[151]
On taking his seat at Westminster, King-Harman identified himself as the candidate elected by the people of Ireland to send the message "that law and order in that country were to be maintained at any cost". (This led Punch to welcome his return "as his sentiments are in Harman-y with Law and Order".) But King-Harman also presented a call for peace as a call for resistance. "The paramount wish of the great majority of the Irish people now was – 'Give us rest'. They desired rest from misrule, rest from the disorders brought about by concession to unscrupulous agitation."[152] There was a sense in which his plea was heeded, for Irish issues tended to mark time during the final two years of the second Gladstone ministry. True, there were plenty of specific questions – appointments, salaries, the threat of foot and mouth disease – that had King-Harman frequently on his feet in the Commons, and as a soldier he also took an interest in the unfolding military catastrophe in the Sudan. Outside the chamber, there was a trace of the old paternalism in his contribution to a parliamentary committee examining the conditions of Irish labourers – perhaps an attempt to open a new front against the insurgent farmers who treated them with little respect. However, when a bill to improve their housing conditions emerged in 1885 – proposed by the incoming Conservative minority government – the landlord in him baulked at a proposal to acquire sites for cottages by imposing compulsory leases. He understood (and distrusted) the principle of compulsory purchase, but to force property owners to hand over blocks of land for 99 years struck him as "a very dangerous principle, and if they once entertained it they would never know when they were going to stop". The London correspondent of United Ireland, obviously hardly a neutral observer, described King-Harman's hostility to the measure as "virulent … he actually foamed at the mouth". Nonetheless, he failed to derail the legislation.[153] Overall there were few major Irish projects on offer in that period: time was needed to digest the massive legislative upheaval of 1881-2, while for most of 1884-5, Parliament's attention was fixed upon the question of franchise reform and the redistribution of constituencies.
The King-Harman who sat for County Dublin was a changed personality from the moderate Home Ruler who had so recently represented Sligo: for instance, he was now "reckless in statement where he used to be scrupulously truthful." The Parnellites demanded the reform of the Irish grand juries, the last bastion of landlord control over local government. It was perhaps predictable that King-Harman should dismiss the idea as a "a kind of practical joke", but an exchange with John Barry, the MP for Wexford, demonstrated his inflexibility and the depth of the distrust that he felt towards his former Home Rule associates. King-Harman censured Barry for allegedly referring to rural anarchy as "mild social disorder". Barry protested that he had said "wild social disorder". King-Harman could easily have conformed to parliamentary courtesy, acknowledged that the acoustics of the Commons chamber were not perfect and accepted the honourable gentleman's correction. Instead, he insisted upon the accuracy of the notes he had taken, and ploughed on with his attack.[154] When he spoke about primary education in Ireland, there was a hint of the King-Harman of 1878 who had urged sympathetic treatment of the pay and conditions of National teachers: it was, he said, "a sad fact that 25 per cent of the rising generation were growing up in ignorance". However, he favoured compulsory attendance less for the dissemination of knowledge than as a contribution to social control: "the habit of regularity which would thus be enforced would be almost as valuable to the children as the actual knowledge they would acquire. There was no greater weakness in the character of the Irish peasant than his fatal habit of irregularity." Forcing children into school "at fixed and stated hours" was only incidentally designed to advance their education. "Though they might forget their ABC … the habit of discipline and obedience to orders would remain."[155] Three years earlier, he had lamented the faults of Irish farmers but added that "you cannot make them industrious by Act of Parliament".[156] Now the military martinet had replaced the sympathetic squire.
Indeed, in King-Harman's eyes, a large section of Ireland's population needed to regain his confidence by improving their conduct. Local self-government was now impossible, since "the Irish people had shown no capacity for such government, and had, in fact, retrograded 50 years."[157] A stronger voice in the wider affairs of the State would also require a considerable measure of popular reformation. "There might come a day when the question of the lowering of the franchise might be considered," he conceded at Rathmines, "but first the people must learn common sense, must learn to discourage American agitators as their leaders, and must learn thrift and industry, must learn self-reliance" – and the list of requirements continued.[158] Although the Irish Conservatives were in no doubt that in opposing franchise reform, they were fighting a surrogate battle against Home Rule,[159] King-Harman's part in the resistance was mainly confined to the division lobbies. A rare speech on the 1884 Reform Bill revealed the extent to which his personal centre of gravity had shifted within the islands. No longer was he the proud Irishman who resented the ignorant interference of the English. Rather, "he objected to the franchise being extended to those portions of the community in Ireland who were hostile to England … ignorant and misled people who, backed by an American agitation, were trying to sever Ireland from the Mother Country."[160] The term 'Mother Country' was figuratively used to describe Britain's relations with the colonies, implying a suzerainty of power and wisdom. To use it in regard to Ireland was to imply precisely the English superiority that he had once resented. King-Harman also supported a move to dilute the proposed mass male franchise by extending the vote to propertied women. This was less a gesture of principled feminism than a tactical move to strengthen Conservative candidates, but King-Harman did offer one argument that may win the approval of posterity. An unpleasant objection had been raised that thousands of women worked as prostitutes, although the prospect of a massive stream of voters heading from the brothel to the ballot box seemed far-fetched. King-Harman roundly condemned the men whose immorality debauched their female victims, noting that they faced no moral test to add their names to the electoral rolls: "men may sin and be a power in the State; but when a woman sins, not only is she to have no power, but her whole sisterhood are to be excluded from it."[161]
When he once again addressed his friends, the Orangemen of Blackpool, in January 1885, King-Harman was in desponding mood. Thanks to the Franchise Bill and the threatened redistribution of constituencies, "nearly two-fifths of Ireland would be simply handed over to the tender mercies of the other three-fifths. The loyalists would be practically unrepresented." He warned Englishmen to "consider what a serious thing it would be if Ireland were allowed to send to Parliament eighty-five or ninety men pledged to the dismemberment of the Empire."[162] When the general election came on at the end of the year, he made one last attempt to test his theory that almost half the people of Ireland sought to escape from Parnellite intimidation, running his agent, Colonel Robertson, as the Conservative candidate for the new seat of Roscommon North. In the secrecy of the ballot, Robertson failed to win six percent of the popular vote.[163] For obvious symbolic reasons, County Dublin was a target for Parnellite registration campaigns.[164] Even on the pre-1884 franchise, King-Harman might have been hard-pressed to defend his thousand-vote majority. With an influx of new voters, there was little prospect of holding either of the two new County Dublin seats.[165] King-Harman's detractors noted that no Ulster constituency offered its favours:[166] landlords were not necessarily popular in the North whatever their religion and politics. If he wished to remain in Parliament, he would have to find a seat across the Irish Sea.
Fortunately, the British electoral landscape was undergoing drastic surgery, creating openings for parliamentary hopefuls. The Isle of Thanet division of Kent, dominated by the seaside towns of Margate and Ramsgate, looked safely Conservative. Early in September 1885, it was reported that "the redoubtable Col. King-Harman has thrown his bulky form at its feet".[167] Earlier in the year, he had denounced John Bright in a flamboyant speech at Ramsgate, claiming that the Rochdale cotton mill of this Quaker saint and persecutor of Ireland's misunderstood landlords blatantly operated a "No Irish need apply" employment policy. "There is not a word of truth in Mr King-Harman's statement, if he is correctly reported," retorted Bright in a terse rebuttal.[168] The Tories of Thanet evidently preferred panache to strict accuracy, and welcomed the outspoken Colonel as their standard-bearer. Lord Salisbury's minority ministry helpfully appointed him to the Irish Privy Council, and it was as the Right Honourable Edward King-Harman that he faced the voters at the beginning of December.[169] They returned him by 3,381 votes over a Liberal who polled 2,670.[170]
At the age of 47, King-Harman had acquired a reasonably safe parliamentary seat. Even if the Liberal split over Home Rule could not be foreseen in 1885, it was likely that the late-Victorian boom in seaside holidays would continue to attract small businesses, boarding-house keepers and the retired middle class to the Kent coast, further boosting its Conservative vote.[171] If his finances and his health permitted, King-Harman could look forward to perhaps twenty years of political life, through two decades that would in the event be dominated by his own party. Cash, of course, was a problem. A seat in Parliament was an expensive hobby, and King-Harman was known to be short of money: in 1884, Jasper Tully had called him "a bankrupt in character and in purse".[172] Somehow, he acquired, probably on short-term leases, a residence that enabled him to spend part of the year in the constituency.[173] Happily, Irish gentlemen were accustomed to juggling with insolvency. More alarming was the sudden collapse in King-Harman's health. It was announced on 29 September that he was "seriously ill", indeed so sick that his doctors issued frequent medical bulletins. The following day, it was stated that he had been "suffering for the past week from symptoms of severe intestinal catarrh, resulting from a chill." Although he was making progress, "there is still considerable prostration". A week later, he remained "in a prostrate state".[174] His stressful lifestyle perhaps suggests a perforated ulcer, although that would have only a coincidental connection with any chill caught while shooting in the Roscommon countryside. Whatever the cause, it is clear that he was very ill, and must have been left in a weakened state, for he took a much less active part in public life in the months that followed. In March 1886, he was still "making slow but satisfactory progress towards recovery".[175] It was convenient that the voters of Thanet did not require energetic wooing.
The outcome of the 1885 election was the formation by Gladstone of a Liberal ministry committed to the introduction of a Home Rule bill – on the face of it, King-Harman's worst nightmare. However, in recent decades historians have emphasised that the creation of a legislature in Dublin was originally intended to be one part of an integrated two-pronged strategy. Gladstone also contemplated not simply a land purchase bill, but a measure on a scale sufficient to ease Ireland's landlords aside altogether: the path-breaking Ashbourne Act in 1885 had earmarked £5 million; Gladstone initially talked of £120 million.[176] A London newspaper examined the value of some of the largest Irish estates, assuming sixteen years' purchase on rent rolls that had been reduced by ten percent since 1879. It estimated that King-Harman would net £577, 430 from a comprehensive land settlement.[177] That would enable him to pay off the £200,000 of debt dragging down Rockingham, and clear at least £350,000 in capital. Compensation would probably be paid in government bonds, but even at an unexciting rate of three- or four-percent interest, King-Harman would have a safe return of £10,500 to £14,000 a year – well above the £8,000 net income he was believed to have drawn from his rents prior to 1879, and without the expenses and headaches of collection. Unfortunately, this attractive prospect proved to be a fleeting mirage. It was widely believed that King-Harman had lost not ten percent of his rents but something closer to one quarter.[178] This would reduce the capital value of his estates to around £480,000, but still an attractive prospect. The more serious difficulty was that Gladstone's ambitious scheme was never likely to happen. Joseph Chamberlain – whom Parnell would call "the man who killed Home Rule"[179] – resigned from the cabinet when the price-tag was revealed. With Gladstone himself temperamentally more attuned to constitutional tinkering than to social engineering, the land purchase element of the package simply lapsed. As King-Harman complained in June 1886, "so far as the Government now cared, the landlords, it appeared, were to be left to stew in their own juice".[180] But he would probably have opposed such a package anyway. Although his grandson would occupy Rockingham for over three decades under Free State rule, he abominated the thought of being governed in his own country by the Parnellites.
"Nobody could have expected this debate to close without a speech from the hon. and gallant Member", J.J. Clancy scornfully remarked, as Gladstone's Home Rule bill headed for defeat in June 1886. Predictably, Clancy said, the oration had been stitched around "such words as murder, treason, 'Boycotting', intimidation, separation, civil war, and emigration", coupled with attacks on Parnell and the National League.[181] King-Harman's speech was certainly not the high point of the prolonged and repetitive controversy.[182] He was forced to withdraw several of his more sweeping allegations when challenged by Irish MPs. There was still the same muddle of arguments: it mattered that "the educated classes were against Bill" but so, he insisted, were the small farmers who feared losing their markets in England. There were the familiar sweeping estimates of disaster: there would be "a wholesale emigration of 1,500,000 loyal men" and England would have to face "the flooding of the labour markets with Irishmen, who would have no employment in their own country when the landlords were gone." Home Rule was entirely the wrong solution: Ireland needed to be assimilated with England, with no question of "a separate Legislature until she had proved herself worthy of it". Clancy sneered that the Rathmines speech had "smelt uncomfortably of gunpowder". In fact, King-Harman retreated to the even more provocative language of the County Dublin by-election, assuring the House of Commons that it would be impossible to impose Home Rule "without the effect of it being civil war in a short time, and civil war of a dire and terrible nature. … whatever the faults of Irishmen might be, they certainly were brave and could fight. Civil war, then, in Ireland would not be child's play. It would be fighting between brave men; fighting for a very wrong cause on one side, and, on the other side, men fighting who loved England, and intended to maintain their allegiance to Queen Victoria." For good measure, the conflict would "affect the Irish population in the large towns in England".[183] It is hardly surprising that he was listed (probably without foundation) as one of the officers who had accepted commissions to serve in a rumoured Ulster army that would resist Home Rule.[184]
The general election that followed the defeat of Gladstone's bill returned a strong Conservative majority, cushioned by breakaway Liberal Unionists. The Liberal vote in Thanet dropped by half, King-Harman defeating his opponent, a Nonconformist minister, by 3,399 to 1,311.[185] The new Parliament assembled for a few weeks in late summer before a four-month prorogation. The most important business of the short session was the Queen's Speech, outlining the policy of the new government, and the debate that followed. In a break with tradition, which usually assigned the task to a promising newcomer, King-Harman was asked to move the Address in Reply, a signal that the prime minister, Salisbury, was ready to listen to the Irish Conservatives. On 19 August, resplendent in his uniform as lord-lieutenant of County Roscommon, he informed the House that "I have never set myself up as a speechmaker". The journalist who complained that he "blustered through a melange of threats, bigotry, and stupidity" must have referred to the manner of his delivery than to his content, since he kept close to his assigned task of praising government policies. He did, however, have a good deal to say about Irish issues. "The nation [meaning the United Kingdom as a whole] requires rest after the arduous and serious political struggle in which it has been engaged for so many months." If his demand "that crime and outrage must be punished" sounded negative and repressive, he was also explicit in his recognition that "the agrarian difficulty is at the root of the Irish Question, and that difficulty will be greatly met by an extension of peasant proprietorships."[186]
Otherwise, there was little to rile his famously unstable temper during the short session. He did explode at a remarkable statement from the leader of the opposition, who insisted that he opposed the "extirpation or extermination" of any class of people from Ireland. Speaking from Planet Gladstone, the Grand Old Man solemnly asserted: "My wish is that the Irish landlords should remain in the country, and that they should do their duty there." "How are they to do it?" King-Harman angrily interjected. "You have made it impossible."[187] His one set-piece contribution, opposing Parnell's Tenant Relief Bill, was built around a predictable theme: "What was really wanted in Ireland was not a further reduction of rent, but the suppression of the National League" – a solution that he felt confident the government would soon adopt. But most of his speech consisted of a lyrical description of the harvest in the west of Ireland, crop by crop, and punctuated by the sarcastic laughter of the Parnellites.[188] When he returned to Rockingham in October, he was able to assure Hicks-Beach, the Chief Secretary, that the district around Boyle was peaceful.[189] For the first time since the Land War, perhaps King-Harman had reason to hope for better times. He was about to be hit by the first of a series of hammer blows that would shorten his life.
The death of Laurence King-Harman King-Harman's only son, Laurence, was "a fine young fellow … the apple of his father's eye" who had followed a family tradition to become a lieutenant in the Connaught Rangers. Aged 22 in October 1886, he was on a routine course of musketry instruction at Hythe in Kent when he fell ill with typhoid. Although typhoid left its victims severely debilitated, most recovered: Laurence King-Harman did not.[190] His death was announced in a telegram to Canon Francis Burke, rector of the nearby Protestant church of Ardcarne, who was asked to break the news to the parents: evidently, King-Harman's fragile health was widely known. In a sermon the following weekend, Burke unctuously violated the privacy of bereavement to praise "the blessed calm, the noble Christian fortitude" with which King-Harman received the devastating blow. Like so many parents who have lost a child, he tried to draw comfort from the thought that he had tried to protect his son. "I kept him at home, and under my own eye," he said the day after the funeral; "and I kept him from all annoyance and troubles that might have made him think badly of the people in future times that might be happier than those I have lived through."
There were two violently opposed interpretations of King-Harman as a landlord: his own self-image as a benign squire, and the Parnellite propaganda that depicted him as a grasping tyrant. Instinctively, his neighbours responded to his bereavement by subscribing, however fleetingly, to the former and older conception of community. Shops closed when the coffin reached Boyle, and the local population lined the streets in silent respect. A large number of tenants attended the funeral, "the frieze-coated hearty tillers of the soil" forming a conspicuous element in the procession. The following day, to general surprise, King-Harman drove into Boyle to attend the regular meeting of the local Board of Guardians. He was their chairman, and it was his duty to be there. He began by thanking local people for their sympathy, all the more appreciated since "I have had many disputes and quarrels with my neighbours in the town, and the country too." Describing the clashes as "chiefly political disputes", he admitted that he had not known "how far they embittered envy and caused some feeling of animosity and resentment towards myself." But when he saw "the feeling of sympathy on every face" as he passed through the streets of Boyle, he realised that their differences "did not divide us as fellow-countrymen, formed by the same God, and who worship him at different altars". There was, too, a rare glimpse of Emma King-Harman. "My poor wife", like himself, had been "strengthened" by "the obvious marks of respect and sympathy" from the townsfolk. One member of the Board uttered a few awkward words of condolence: "the people, regarding you as an employer of labour and a benefactor of the poor, regret the loss of a young gentleman who, in time, would follow in your footsteps in the same way." Acknowledging the sentiment, King-Harman simply commented that "my poor boy … went out from this world loving and liking his fellow-countrymen, and especially those in this neighbourhood."[191] Unfortunately, the truce of good feeling was short-lived. In December, King-Harman evicted three tenants for long-term non-payment of rents. "The afflictions with which God has [sic] visited him has not softened this man's heart to the poor farmers even in these Christmas times."[192]
Under-Secretary Neither grief nor ill-health seemed to moderate King-Harman's combative spirits when he returned to Westminster to fight the battle for Coercion in the 1887 Session. At any time, he was habitually, even recklessly, outspoken. "His speech bristles with tremendous epithets, in which however there is more sound than ill-intent," Vanity Fair had said. The targets of King-Harman's abuse were less sure of his essential good nature: Sexton had called him in 1883 "a dull and disorderly brawler". After publicly criticising the management of the Rockingham estate in 1886, Wilfrid Blunt was warned that King-Harman "was thirsting for my blood". Blunt even considered offering to fight a duel, before accepting a friend's advice that such a gesture would be "ridiculous".[193] At the end of March 1887, there was a scene across the floor of the Commons, when King-Harman lost his temper with the ebullient and equally outspoken Home Rule MP, Doctor Charles Tanner. The exchange seems to have involved a certain amount of fist-shaking and a demand from the member for Thanet that his antagonist should step outside the chamber. Since it does not seem to have been brought to the attention of the Speaker, who would have dealt firmly with any risk of a physical clash between MPs, this was probably a minor exercise in plumage-flashing. It would also be the last occasion upon which King-Harman could indulge his emotions without restraint.[194]
Much of the atmosphere surrounding King-Harman's role in the House of Commons during the Session of 1887 comes from Henry Lucy, the political correspondent of the humorous magazine, Punch. Week by week, he contributed his "Essence of Parliament", a burlesque diary that portrayed the proceedings at Westminster as pantomime conflicts involving eccentric personalities – among whom King-Harman was an obvious choice. In addition, Lucy kept a private record, which he subsequently drew upon for a book about the 1886-92 Parliament. In this, his assessments were much sharper and, in the case of King-Harman, bleakly dismissive. It is to Lucy that we owe a cameo of the surprise development when the House met on 14 April 1887. The manifestation of King-Harman on the Treasury Bench, "blushing violently", led MPs to enquire how he had suddenly acquired ministerial honours and, indeed, which ministerial rank had been conferred upon him. It transpired that his elevation was a knock-on from the recent appointment of Arthur Balfour to the office of Irish chief secretary in succession to Hicks Beach. In the early years of the Union, the chief secretary had functioned as a kind of administrative grand vizier to the lord-lieutenant. Gradually, however, as Irish issues had assumed greater centrality at Westminster, holders of the office had acquired a more important policy-making role. Balfour had a seat in the cabinet, but found himself expected to answer questions on highly specific minor issues in the House of Commons. After a few weeks of wrangling with the Parnellites over alleged arson at Mullahduff, County Antrim or the attempted arrest of the parish priest at Youghal, County Cork, the languid Balfour decided that his time could be more usefully employed. The chief secretary needed a deputy to represent him in the Commons, and the choice fell upon King-Harman. Unfortunately, there was a technical complication that he was appointed to an office, under-secretary for Irish affairs, that did not formally exist: Balfour was not even sure of its title. Since the job did not form part of the established government payroll, MPs were assured that King-Harman would receive no salary.[195]
If the nature of the appointment seemed irregular, the choice of the appointee could only be regarded as provocative. Reuter's news agency sent brief telegrams around the world, usually compressing breaking news into about fifty expensively cabled words. In announcing King-Harman's appointment, it thought it worth including the comment that his selection was "severely criticised by a considerable section of the press as tending to exasperate the Irish people."[196] It is often overlooked that Ireland elected eighteen Conservative MPs: three already held office, while Edward Saunderson, the ablest of the backbenchers, preferred to play an independent political role. However, given the limited role that Balfour envisaged for his deputy, it is difficult to believe that an alternative selection could not have been made: "they had plenty of Irish Members to choose from," Healy claimed.[197] In short, the choice of King-Harman seemed deliberately confrontational. It was also a disaster for the man himself, personally, politically and probably financially. A competent junior minister needed to display command of his brief and control over his responses. King-Harman was hardly cut out for either role. The Unionist government planned to double the £5 million already made available for land purchase. The under-secretary charged with defending Coercion was effectively barred from pursuing the only strategy that might rescue his own finances.
Privately, Lucy was contemptuous of King-Harman's parliamentary performances. "He is provided with a strip … of paper, on which a particular statement is written." When called to answer a question, he "lifts his tall head at the table and hurriedly reads out what is written for him", before darting back to his humble allotted seat at the far end of the government front bench. Lucy cruelly likened him to a penny vending machine that failed to deliver the required bar of chocolate: there was simply no point in banging the mechanism in frustration.[198] It did not help that the humourless bureaucrats who provided his scripts sometimes failed to appreciate the House of Commons could be intolerant of absurdity. At Bodyke in County Clare in June 1887, a massive police contingent enforced the edicts of a particularly unsavoury landlord. It was standard practice at disputed evictions for bailiffs to unroof cabins and smash down walls to prevent the homeless tenants from returning as squatters. At Bodyke, the women barricaded themselves in their homes and threw boiling water at their attackers. It was alleged that a bailiff began to demolish one cottage while it was still occupied, using his crowbar as a weapon against the defenders. Civil servants provided their parliamentary spokesman with an absurdly deadpan denial. "There was no such occurrence as a bailiff throwing a crowbar through an opening in the walls. A crowbar, on one occasion slipped from a bailiff's hand and entered the house through an aperture in the wall." "Shouts of laughter," noted Punch, "amid which King-Harman stood immovable." When the uproar subsided, he ploughed on doggedly. "This was purely accidental, and did not occur a second time."[199]
Punch had long since despaired of King-Harman's appointment. After just four weeks, the 'Essence of Parliament' pronounced his handling of questions a failure. "As a rule, King-Harman has got on very badly. ... Irish Members howl at him throughout; make delicate inquiries as to his relations with his tenants; hint that he's been grinding them down for years; and triumphantly recite return of [Land] Commissioners showing peremptory and considerable reduction of rent enforced upon him."[200] Night after night, the Parnellites engaged in "their favourite sport, King-Harman baiting".[201] Allusions to his Home Rule past provided a favourite theme, especially to the inconvenient fact that the Fenians Patrick Egan and Patrick Sheridan – both of whom had fled the country after the Phoenix Park murders – had been his supporters in County Sligo .[202]
It did not help that King-Harman was accident-prone. A month into the job, he was assailed by the Liberal MP, Sir Wilfrid Lawson, a determined campaigner against alcohol. One April evening, shortly before his elevation to ministerial rank, King-Harman had checked into Margate's luxury Cliftonville Hotel to be on hand for the annual dinner and musical entertainment of the local Licensed Victuallers' Protection Society. Publicans were the backbone of Conservative organisation on the ground, their hostelries mobilising voters on polling day. Since the protection that they sought was, of course, against killjoy Liberals like Lawson, there was every reason for the local Conservative MP to share in their jollity. Unfortunately, at five minutes to eleven, a problem arose. The programme was not complete, but the bars were about to close, the hotel management having omitted to apply to the magistrates for an extension of licensing hours. Of course, publicans had a special responsibility to observe the principle of closing time, all the more so since the head of the local police was one of their guests. King-Harman provided the solution. As a hotel resident, he could order drink by night or day. He could also entertain guests at any hour. He promptly invited the entire company to accept his hospitality, and the evening continued to a successful conclusion around midnight. In itself, neither the dodge itself nor Lawson's disapproval was of much importance. However, it did suggest a wider political embarrassment. The alliance between the Conservatives and those Liberals who had rejected Home Rule was still tenuous and distant. Liberal Unionism was a melange of many elements, including Protestant Temperance advocates who feared that a Dublin parliament would promote Popish inebriation. It was unhelpful to remind them of the alliance between Toryism and beer. The expansive gesture did King-Harman few favours either, since it tended to point up the caricature of him as the classic Irish gentleman, impulsive and irresponsible.
Worse was to follow on the evening of 30 August. As the Session dragged towards its close, Tim Healy suddenly detonated a bombshell: Balfour's under-secretary had once been sent to prison "for rioting and assaulting the police in Cremorne Gardens!" Healy's detective work was impressive, although he did improve on the original by claiming that King-Harman had been sentenced to "three or four months' imprisonment" and implying that the punishment included hard labour. Healy mocked "the Government which boasts of its adhesion to law and order" for appointing to office a "released convict". Called to order for a discourtesy towards a fellow honourable member, Healy – an expert in sailing close to the parliamentary wind – sweetly asked to be supplied with "a proper inclusive term to apply to a man who has been sent to the treadmill for assault". Under Coercion, severe penalties were inflicted upon those who assaulted the police, leading Healy to reflect that King-Harman had been fortunate that no such legislation had applied to Cremorne in his young days.
King-Harman was not in the chamber at the time. Nor was he pleased to be dragged from the dinner table to the dispatch box, asserting that the real scandal was that Healy "had, with his usual courtesy, taken the opportunity of my absence to make a violent attack upon me". His explanations of the Cremorne affair were probably embarrassed and almost certainly unrehearsed. As a result, they came across as grudging and staccato, the comments of a man who haughtily resented being called upon to defend his conduct. "I did get into a row 27 [recte, 26] years ago; but I dare say many of us were much more foolish 27 years ago than we are at present. I do not believe that any man is very much the worse for having got into a boyish scrape." This suggested that he had still not come to terms with the concept of elite privilege: he had, in any case, been 23 at the time and about to marry. "There was nothing disgraceful or cowardly in it," he said of the unprovoked loutish rampage, "and if I got into a scrape at all it was through defending my friends."[203] Reviewing the episode for the Nation, Healy impishly suggested that "all persons under the age of twenty-two who come into contact with the police at evictions, &c., ought to be excused".[204] But on 9 September 1887, a few days after King-Harman's humiliation, jokes about scuffles with the police ceased to be appropriate. In a clash with a crowd at Mitchelstown in County Cork, the Royal Irish Constabulary opened fire and killed three people. One of them was a boy of seventeen. In mid-August, King-Harman had defended a policeman who had threatened a crowd with his revolver at the County Cork town of Kanturk.[205] Now he was kept firmly away from the dispatch box as J.G. Gibson, the Irish attorney-general, fielded the protests of MPs until Balfour could take charge of government stone-walling.
Notwithstanding King-Harman's public relations disasters, the government decided early in 1888 to place his office upon a statutory basis, incidentally making him eligible to receive a salary. Naturally, the Parnellites used their well-honed skills of parliamentary obstruction to harass and delay the necessary legislation. The slow progress of the King-Harman Relief Bill, as it became derisively known – there were predictable jokes about the need for accompanying Arrears legislation – did nothing to enhance the dignity of the embattled parliamentary under-secretary.[206] A debate on 9 March did culminate in the passage of a non-binding resolution that it would be "expedient" to pay King-Harman a salary, but even this token triumph was purchased at the cost of an unusually devastating personal attack on his character – predictably delivered by Healy – which denounced him as a turncoat, "a rack-renter and extortionist", and threw in Cremorne for good measure. Balfour claimed he had never "heard a speech in the House of Commons which was a greater violation of every canon of good taste" and flatly refused even to acknowledge Healy's denunciation of "one of the most honourable and distinguished Gentlemen who ornamented this House".[207] This was pitching King-Harman's virtues very high, the more so as it was tantamount to accepting that no defence could be offered.
In a further debate in late April, by which time King-Harman was away on sick-leave, the Parnellite case was advanced in more moderate terms by T.P. O'Connor. He disavowed any "feeling of personal hostility", expressing the hope not merely that King-Harman would soon be "back again in his place in that House", but even that the day would come when "he would be able to take that share in the government of Ireland to which his position entitled him". There was an ironic tinge to Tay Pay's praise. "The Home Rule movement owed a great deal to the right hon. and gallant Gentleman the Under Secretary, but the fact that he was an Orangeman did not endear him to the Irish people." The sad truth was that landlords like King-Harman "were paying the penalty of their sins in the past. … The reductions made on his estate had been among the largest in Ireland, having ranged from 35 to as much as 60 per cent". T.P. O'Connor bleakly accused King-Harman of being "engaged in a constant war with his tenants". Even the Liberal John Morley noted that his relations with his tenantry were "strained".[208] The Nationalist press did not feel restrained by such parliamentary courtesies. One newspaper dismissed King-Harman as "a white elephant" and denounced "the barefacedness and enormity of this job. … An Irish landlord, with a rent roll of £40,000 a year, is the object of special charitable attention at the hands of the Cabinet, just because he is a renegade from the principles he once advocated to the delight of the Irish people." Confusingly, it was recognised that King-Harman's rental income had been slashed by the land courts, but that was "no reason why he should be put in power over a people to whom he is odious, in order that he may draw a solacing salary from the public purse". The Australian Home Rule newspaper which referred to "the pieces of silver for which he appears to have put in a pressing claim" was almost certainly reflecting, and probably quoting from, sources back home.[209]
It could not help the case for regularising King-Harman's position that government spokesmen consistently failed to explain why the appointment was needed at all. Indeed, the bill was dropped after his death, and no successor was ever appointed.[210] In fact, Balfour did plan to assign a role to King-Harman, but it was not one that could be divulged to the House of Commons. In a private letter written in November 1887, he pointed out to his deputy that "where the Plan of Campaign has been fairly fought it has been invariably beaten, and the cost has been so heavy as to afford very little encouragement to the tenants in other parts of Ireland to indulge in the same expensive luxury." Balfour found this encouraging, since "if the Plan is allowed to win, it will become the most formidable engine for destroying the whole of a landlord's interest in his property." Obviously, it was "a piece of most elementary wisdom for the landlords to combine together" – the message of unity that King-Harman had voiced as Arthur Kavanagh's cheerleader in 1882. Organised resistance naturally needed to be financed, but "as a mere speculation, I do not believe Irish landlords could invest their money better." Kavanagh's Land Corporation of Ireland, and its successor, the Anti-Plan of Campaign Association, had already confronted the agrarian insurgents on specific estates. Balfour despaired that the Irish landlords seemed incapable of combining "for any other purpose than to abuse the government." It seems that he wished King-Harman to steer and to stiffen their resistance, although it was not clear how this could be reconciled with his ministerial role. "Of course, as a Government we cannot interfere."[211] But if the chief secretary sought a deputy who could build bridges to his fellow Irish landlords, was King-Harman the obvious person for the job? By March 1888, there were rumours of pressure from the Conservative benches replace him with Robert Penrose-Fitzgerald, a County Cork landlord who sat for Cambridge.[212]
Unfortunately, King-Harman was in no condition to shoulder any new responsibilities. It is unlikely that he had fully recovered from his severe illness in the autumn of 1885, and his health was now rapidly declining. Friends noted that "the death of his son preyed silently, but perceptibly … upon his constitution".[213] Henry Lucy almost certainly did not appreciate how ill he was when, in May 1887, he melodramatically portrayed King-Harman as "visibly fading" under the pressures of his ministerial appointment. "A deathlike pallor displacing his ancient ruddiness; a haggard look about the eyes; a stoop at the shoulder; and a growing lassitude of manner."[214] When a deputation of tenants sought rent reductions in December, King-Harman was initially unable to meet them because he was "unwell", although he later made the effort to receive them "in a very courteous manner".[215] By March 1888, he was in the hands of Sir Andrew Clark, one of Britain's top medical practitioners. It is likely that King-Harman had throat cancer: he seems to have been a heavy smoker.[216] Clark was brought in, not because he – or contemporary medicine of any kind – could tackle the affliction, but because a very senior medic was needed to order him ("peremptorily" in one account) to take a complete rest.[217]
On 23 March, it was announced that King-Harman planned to travel to South Africa during the Easter recess.[218] At the end of the month, he sailed on the Hawarden Castle – contemporaries noted the irony that the ship was named after Gladstone's Welsh estate – on a three-week voyage to Cape Town, arriving on 18 April. The ship then went on to Durban, giving King-Harman three weeks at the Cape before boarding for the return voyage on 9 May, which arrived in England on 29 May. The decision to travel to South Africa, and at that time of year, seems a mystery. King-Harman had probably called at the Cape on his way to or from India thirty years earlier, and perhaps wished to make a return visit. However, at 4,380 tons, the Hawarden Castle was a small vessel, certainly by later standards (the Titanic was ten times larger), while the North Atlantic is hardly a friendly ocean in early April. King-Harman reached South Africa just as Cape Town braced itself for the onset of cold and wet winter weather.[219] However, letters from Madeira gave "very favourable reports" of the effect of the voyage, and these were confirmed in news agency telegrams from Cape Town, which spoke of his hopes to return to Parliament after the Whitsun recess.[220] When King-Harman disembarked at Plymouth, he was initially described as "much improved in health", but it soon became clear that this was not the case. On a brief stopover in London, he was observed to be "much emaciated". At Rockingham, his two local doctors persuaded him to take to his bed, although they had some difficulty persuading him to stay there. Indications of heart failure gave cause for concern, but on 10 June, a Sunday morning, King-Harman claimed that he felt "much better" and insisted on getting up to have breakfast. Unfortunately, he spotted an unauthorised stranger fishing on the banks of Lough Key, an unwelcome strain upon his mercurial temper. He gave orders to lop a branch from a tree that was blocking light into his bedroom, and then sat down to chat with his two doctors and members of his family. At around 10.30 a.m. he suffered a heart attack. The two medics "did all that was possible to restore vitality, but in vain". King-Harman was fifty years of age.[221]
Postscript The atmosphere surrounding King-Harman's death was very different from the generous local sympathy that had marked the passing of his son two years earlier. Although the funeral was expected to be "one of the largest ever seen in the district", it was very much an Ascendancy turn-out. The Irish Times did its best to paint an inclusive picture, describing shops in Boyle partially shuttered (but not, it seems, closed), the presence of a handful of Catholic priests and "the humble jaunting car of the tenant farmer" in the funeral procession. Revisiting Boyle a few days later, Wilfrid Blunt was assured that "never a frieze coat followed his bier".[222]
To The Times, King-Harman was a victim of the "envenomed attacks" of the Parnellites, motivated by the refusal of this one-time Home Ruler "to march with them through the dishonest and violent agitation against property and government …. They vowed to have revenge, and they may now be regarded as having had it".[223] The historian may discount the moral outrage of a newspaper that was championing the Pigott forgeries. At the other extreme, poisonous abuse of King-Harman seemed to become more virulent the further his detractors were from Ireland. A London newspaper came up with a deeply unpleasant reflection; it was the irony of Fate that King-Harman, who had "doomed to starvation … the half-naked wretches who toiled as tenants on his land", should have died from "a disease of the throat, which prevents him from swallowing any food".[224] A Melbourne publication hoped there would be "some sweet smelling wreaths" at his interment, "with the object of neutralising the unpleasant effects of the inodorous memory that will survive him."[225] But, closer to home, in Dublin the Freeman's Journal bleakly conceded that "political antipathy ceases at the grave side".[226]
In accordance with the entail laid down by King-Harman senior in 1874, Newcastle passed through the male line to the second son, Colonel Wentworth King-Harman of the Royal Artillery. The Land Commissioners had recently cut rents around Ballymahon by forty percent,[227] so the Longford properties could no longer provide a financial cushion for the shattered finances of Rockingham, but the loss of Newcastle boded ill for the future. King-Harman was reported to have left £44,000 in "personalty": if this represented cash and investments, it was – as the Manchester Guardian put it – "a curious commentary on the recent depreciation of landed property in Ireland", since his "way of living was not extravagant" and his rent-roll had been, not long before, £40,000 a year.[228] But if "personalty" also included valuations for furniture and non-real estate personal property, his assets were remarkably meagre for such a major landowner.
King-Harman succeeded in leaving Rockingham to his daughter Fay (Frances), but with two conditions. The first was that, if she married, her husband must take the surname King-Harman.[229] The second, which only became public knowledge much later, was that she must marry with her mother's consent. If Fay failed to do so, Emma King-Harman would retain Rockingham for her own lifetime: only after the widow's death would the succession resume in the male line, should Fay produce a son by her unapproved husband. This was an odd restriction to impose upon an impressive young woman in her mid-twenties, who had been sufficiently trusted to work for some time as her father's private secretary. It seems that Fay King-Harman was unofficially engaged to the family doctor, Thomas Stafford. He was no mere country quack: in 1914, Stafford would receive a baronetcy in recognition of his services to public health, and he was later a member of the Free State Senate.[230] Having been in attendance when King-Harman died, he was certainly regarded as an appropriate medical adviser at Rockingham, but he was not acceptable as a son-in-law. The complication, in the eyes of Fay's parents, was that – to adapt King-Harman's phrase of 1886 – Stafford worshipped God at the wrong altar.
By 1890, Stafford had secured appointment as a public health inspector to the Local Government Board, and the couple decided to marry. "Miss King-Harman's future spouse is a Catholic, which is a sufficient bar to the approval of her mother," commented one Irish newspaper; "but the young lady prefers to sacrifice everything in order to have the man of her choice." The wedding, which took place at a fashionable London church, "excited considerable interest" because "it was strictly boycotted by the family of the bride". (The choice of verb indicated ironic disapproval of King-Harman's intervention from the grave.) The Conservative establishment rallied to show support for the bride: Balfour was one of a number of cabinet ministers who attended, and Fay was escorted to the altar by "her father's very attached friend", Robert Penrose-Fitzgerald.[231] Half a century later, Ireland's Folklore Commission recorded the local tradition that, immediately after Fay's marriage, "all her belongings were flung out on the roadside at Rockingham".[232]
In the circumstances, Doctor Stafford saw no reason to change his own surname. However, when a son was born to the couple in 1891, the child's residuary interest in Rockingham was signalled by naming him Edward King-Harman. King-Harman's widow Emma died in 1893, and Rockingham was pitched into two decades of litigation and expensive administration, with Thomas Stafford defending his son's interests against a line-up of King-Harman's siblings.[233] The one bright spot in the imbroglio was the sale of the Rockingham farms to the tenants under Wyndham's Act. In 1904, it was reported that "over half a million sterling" had been paid for the Roscommon and Sligo lands, a notably more generous settlement than had been mooted in 1885-6.[234]
Young Edward King-Harman joined the Irish Guards before coming home his inheritance in 1912. His coming-of-age was something like old times, with a public meeting in Boyle to plan a gift for his twenty-first birthday.[235] The sale of tenancies had apparently solved Rockingham's financial problems and the young heir, "a good sportsman" who ran "his own pack of harriers" was soon popular. He was recalled to the colours at the outbreak of the First World War, and died in Belgium soon afterwards. He left a young widow, who gave birth to a daughter in 1915. The relentless masculinity of the King-Harman tradition once again applied, and Rockingham passed to Fay's second son, who became Sir Cecil Stafford-King-Harman on his father's death in 1935.[236] He served in the British Army between 1940 and 1943, returning to Rockingham where he organised some notable shooting parties: the American minister, David Gray, and the British High Commissioner, Sir John Maffey, were among the guests. However, Sir Cecil was best remembered as "one of the really great Turf Club stewards of all time."[237] He and his wife were away at Doncaster races in 1957 when an electrical fault caused a fire that destroyed most of the mansion.[238] The ruins were demolished, and the Rockingham demesne was subsequently sold to the State. Like Parnell's property at Avondale in Wicklow, it became a forest park. Sir Cecil's only son had been killed serving with the Irish Guards in Normandy, and the baronetcy died with him in 1987.
As noted above, Newcastle and the County Longford lands passed to another branch of the King-Harman's. The fall-out from King-Harman's Will caused "great bitterness" within the extended family. Newcastle later fell upon hard times, and the last descendant left for England after selling up in 1951, exactly 350 years after the first member of the family had set foot in Ireland.[239] The mansion became a convent. In 2021, it was a hotel.[240]
Conclusion While the life of Edward King-Harman merits outline reconstruction in its own right – no doubt much more could be uncovered – its historical significance largely relates to two wider issues: comparison (and contrast) with the career of his contemporary, Charles Stewart Parnell and, closely connected, the light that it may throw upon the land question in Ireland. Parnell and King-Harman both came from privileged Protestant backgrounds, both could claim champions of Grattan's parliament among their forebears, both were attracted by soldiering and on occasion could be handy with their fists. By coincidence, both would die young, with their final months made more pressured by embittered political conflict: each might well have had the name of T.M. Healy etched into his heart. As landowners, they differed in the scale of their holdings: 5,000 acres for Parnell, 72,000 – almost 300 square kilometres – for King-Harman. Both inheritances were seriously burdened by encumbrances such as mortgages. Until 1879, King-Harman's lands yielded a net income large enough to support a lavish lifestyle; Parnell realised from the time he came of age that Avondale had to be developed on a commercial basis through the exploitation of its quarries and its timber resources. Hence King-Harman embarked upon the life of an opulent squire, while Parnell became a building trade entrepreneur.[241] Not surprisingly, the social vision underlying King-Harman's conception of Home Rule was comfortably conservative, while Parnell's vision of the Irish countryside quickly became radically transformational.
Addressing his English constituents at Ramsgate in 1887, King-Harman explained that his youthful embrace of Home Rule had resulted from outrage against Gladstone's government and a belief that "they might as well see what their own people could do".[242] But did it matter that King-Harman had only a vacuous notion of Irish legislative autonomy? It is not necessary for every activist in a movement to be a creative political theorist. If the Home Government Association was reactive in origin, it nonetheless commanded the support of thoughtful personalities throughout the eighteen-seventies, and it has been contended that historians have unfairly dismissed the 'moderate' Home Rulers of that decade.[243] It may also be pointed out that Parnell's own ideas about Home Rule often seemed nebulous, or at the very least conveniently flexible. It may even be argued that, until 1885, he was more interested in agrarian reform than in devolution. Here there was a paradox perhaps deeper than any contradictions in King-Harman's dream of an Irish parliament under Ascendancy leadership, for Parnell's vision of legally controlled rents and government-funded land purchase required a massive expansion of the scope of the laissez-faire British state at just the moment when Home Rules sought to break free from its control. Parnell too talked in general terms about finding a role for landlords in a Home Rule Ireland. Historians have identified conservative threads in his thinking: Frank Callanan accepted that "Parnell sought to ensure the retention of a scaled-down residential landlord class under home rule, to maintain a class who could contribute to Irish economic development; to contrive a political balance; and to secure ultimate Anglo-Irish and Conservative assent to a scheme of home rule." But Callanan strongly dismissed the notion of Parnell as a secret Tory, pointing to the radical reality of his campaigns rather than the conservative rhetoric that he occasionally used as a convenient cloak.[244] Nonetheless, Bew has argued that "Parnell's nationalism resided basically in a faith in the superior capacity of Ireland's local ruling class – as compared with the incompetence of the English administration – to control the inhabitants."[245] Applied to King-Harman – as it very nearly could be – such a statement might be presented as underlining the hypocrisy of his shallow engagement with Home Rule. But in truth there was a difference: King-Harman could never rid himself of the conviction that his peasant neighbours actually wanted him, and his kind, to rule over them. The two men also differed in the impact upon them of their common Protestant heritage. Except for a probably brief period of religious doubt when he was at Cambridge,[246] there was no chance that Parnell would break with the Church of Ireland, but he was never, and never could have been, an Orangeman. He accepted the need to make extensive concessions to the Protestant minority to win them to practical acceptance of Home Rule, not in response to their claimed entitlement to supremacy. When King-Harman talked of religious harmony, he meant that Catholics should be willing to accept a subordinate position in a benignly-run Ascendancy Ireland. Faced with the prospect of a Romanist marrying into his family, he was prepared to risk his own daughter's happiness from beyond the grave.
If their respective attitudes to land-ownership predisposed King-Harman and Parnell to take different political paths, it cannot be said that their conditioning fully predetermined their responses. Something must be left to individual intellect and the idiosyncrasies of personality. The sheer size of the Rockingham and Newcastle estates no doubt made the inherited role of paternalistic patriarch not merely attractive but essentially natural to King-Harman. Yet he might have taken a hard look at his inheritance from 1871, as Parnell assessed his after he came of age in 1866, and similarly concluded that his main income would have to be generated by non-traditional means. Perhaps Connacht imposed obligations where Wicklow offered opportunities but, even so, obligations and opportunities were still subject to the filter of individual decision. If Edward King-Harman were to be seen as Charles Stewart Parnell through the looking glass, then his conventional and defensive interpretation of the landlord role can only point up the innovative and integrated nature of Parnell's radical alternative.
This fundamental point may be illustrated by another comparison of personalities, nearer to home in the Roscommon countryside. In the decade when the young King-Harman was dancing jigs with the peasantry and learning sympathetically of the hardships they endured, a few miles away the teenage Douglas Hyde was picking up phrases from the country people in the Irish language that they spoke among themselves. Shaping their asserted Irish identity within a shared Protestant heritage, both men sought to build bridges within the same landscape. Hyde perhaps had the advantage that his father was a clergyman, an alcho-choleric bully to his own family, but only peripherally involved in the landlord system. By contrast, King-Harman showed little interest in the way the people spoke, even though one of his fellow moderate Home Rulers, Lord Francis Conyngham, was the first president of the Society for the Preservation of the Irish Language. Their interactions with the same local community set the two on entirely different cultural and political paths. In 1886, King-Harman declared that "the way to make her contented consisted in giving to Ireland equal laws with England and an impartial [i.e. authoritarian] administration of them".[247] Six years later, in a speech that made more impact, Douglas Hyde called for "the Necessity of De-Anglicising Ireland".[248]
It is impossible to evaluate King-Harman's conception of his inherited role as a landlord without appreciating the massively Micawberite nature of its economics. In the eighteen-seventies, the simple balance of annual income £40,000, annual expenditure (on accumulated estate debt) £32,000 pointed to "result happiness". When the Land Acts reportedly slashed his gross income by twenty percent – and many reported rent reductions cut deeper – he was well known to be facing "result misery". Even in faraway Queensland, a newspaper could knowingly state at the time of King-Harman's death: "For the last six or seven years the property has paid no profit whatever to its owner."[249] To determine whether he was villain or victim, it is necessary to decide whether the land courts of the eighteen-eighties were imposing overdue justice or engaging in a politically-motivated persecution. Reporting that his rents had in some cases been cut by fifty percent, a New Zealand newspaper drew an innocent moral "that up to that time he was charging his tenants nearly twice as much rent as he ought to have charged, and that of course is not calculated to raise him in public estimation in Ireland."[250] But King-Harman defended himself to a deputation of tenants just six months before his death. "He pointed out that he was not a rack-renting landlord and that he had always endeavoured to assist his tenants when an appeal was made to him. In the bad times he borrowed money on which he was now paying money, every penny of which he spent to give employment, and he often put his hand in his pocket to relieve his poor tenants." The priest who acted as the farmer's spokesman on that occasion somewhat grudgingly conceded that "he was prepared to admit that the right hon. gentleman was a good landlord".[251] Not many years before, the local priests had refused to speak at all on behalf of the mass lobby that confronted King-Harman on New Year's Day 1881, and we should not forget the outspoken verdict of Fr Luke Carlos that King-Harman was worth all the other eighteen landlords in his parish combined. His relief work in 1879-80 and his attempts to raise parliamentary and British public awareness of the extent of the crisis in the west of Ireland deserve to be remembered.
No doubt it stretch the historian's customary love of paradox to argue that he was as much a prisoner of the landlord system as his tenants – there were worse places in which to be incarcerated than Rockingham – but it does seem fair to suggest that, in King-Harman's case, the fundamental problem was not so much the landlord as the system. To the extent that he was indeed a prisoner, he was trapped at a particular point in time. Thanks to the land courts, rent ceased to be a burden for most tenants in the years immediately after 1882, but land purchase schemes had not yet become particularly attractive. Perhaps King-Harman might have rallied his tenants, or at least some of them, to take advantage of the 1885 Ashbourne Act, the first land purchase legislation to provide for one-hundred-percent mortgages. Unfortunately he had accepted the one government appointment that would have made it inappropriate, and indeed a breach of Parliamentary standards then understood to prevail, for him to follow such a course of action.
As with Parnell, so the last year of King-Harman's life was darkened by venomous political conflict. Parnell's historical reputation is overshadowed by the Split, King-Harman's vanished altogether under the derisive abuse that engulfed what even The Times called "the office to which he was unfortunately appointed". On more than one occasion, he came close to losing his temper in the House of Commons "under the unrelenting persecution inflicted upon him by the Nationalists".[252] At least he preserved something of his dignity, unlike Parnell, who descended to the language of the gutter as he appealed to the men of the hillsides. Yet there could be little doubt that Balfour did King-Harman no favours in pitching him into a job for which he was hardly suited, and using the colonel as his parliamentary shield. "But for the curse of his acquaintanceship with the Irish Chief Secretary, King-Harman might have preserved, to the end of his days, some share of the popular affection which he had earned for himself in his early years."[253] "Good news for the Irish members," a newsboy was heard to shout on a London street; "death of Colonel King-Harman." The entrepreneurial urchin had got it wrong. The Nationalists resented and despised Balfour's under-secretary, but they knew that his hapless presence on the Treasury bench was an asset to them. Even those Tories who hoped King-Harman's illness might be used as a pretext to ease him from office knew that "any apparent surrender to Parnellite clamour" would be interpreted as "evidence of weakness".[254] Hence H.W. Lucy's cold reflection that his death "relieves the Government of a difficulty". Lucy regretted that the "ill-fitting political garb" of the under-secretaryship had provoked the vituperative onslaughts that "helped to hurry poor King-Harman into his grave". Yet Lucy was scathing in his private verdict: "the gallant colonel" should have avoided politics altogether. "At one time he was the object of wild enthusiasm throughout Ireland. … The right-hand man of Isaac Butt, the idol of the Irish people, he became in his premature old age the ineffectual tool of Mr Balfour, a target for abuse in the House of Commons, and an object of scorn in his own country."[255] The assessment was harsh but true. Deploring the violent language of Irish politics, the Ireland correspondent of the Manchester Guardian reflected that "there is little use in saying that, with many faults, he was no unworthy type of the courageous and straightforward Irish gentleman."[256] It was a generous defence of King-Harman the man, but as an evaluation of King-Harman the landlord and politician, it was essentially a restatement of the inherent problem.
Edward King-Harman, The Pictorial Australian (Adelaide), 1 July 1887 (original not traced)
ENDNOTES Websites were consulted on various dates in April and May 2021.
[1] This section is based upon A.L. King-Harman, The Kings of King House (Bedford, UK, 1996), 49-57 [cited as ALKH], who drew upon a family history privately printed by R.D. King-Harman in 1959, which I have been unable to consult. There seems to be relatively little secondary material relating either to E.R. King-Harman or his family, but S. Farrell, "King, Hon. Robert (1804-1869), of Rockingham, co. Roscommon" is useful: https://www.historyofparliamentonline.org/volume/1820-1832/member/king-hon-robert-1804-1869. [Additional note, May 2022: There is a superbly illustrated chapter on Rockingham House in Paul Connolly, The Landed Estates of County Roscommon (2018). I am grateful to Andrew Newland for bringing this to my attention.]
[2] Although careful manipulation of the succession excluded "the Frenchman" from inheriting any of the King family acres, the failure to secure the divorce meant that nothing could prevent him from inheriting the family's senior title and so becoming Earl of Kingston. The family solicitor's charitable reflection that "the acquisition of the title may prove the way to his obtaining another property by marriage" proved prophetic: the joint heiress of the Tenison family was not only amenable to becoming a Countess, but conveniently re-imported a genuine King bloodline into the renamed King-Tenisons.
[3] Peerage page: http://www.thepeerage.com/p11752.htm#i117518. A sixth son died young. There were also two daughters, one of whom did not survive childhood.
[4] ALKH, 66.
[5] ALKH, 67.
[6] Debates of the House of Commons, 7 March 1883, 1673.
[7] The Sligo Champion, 30 June 1888, published a candid tribute to King-Harman, "By One Who Knew Him" [cited as BOWKH]. The writer referred to having been assaulted by the police alongside A.M. Sullivan at an Amnesty meeting in Phoenix Park in 1871. Five prominent Nationalists were reportedly roughly handled by police. BOWKH referred knowledgeably to Westmeath politics, but P.J. Smyth, for a time MP for the county, had died in 1885. T.D. Sullivan, another casualty that day, is a likely candidate for BOWKH, but certainty is impossible. Irish Times, 7 August 1871; T.D. Sullivan, Recollections of Troubled Times in Irish Politics (Dublin, 1905), 138-45.
[8] Punch, 17 March 1883, 124, reckoned him to be 6 feet 3 inches tall. King-Harman admitted to 18 stone when his horsemanship was queried during a debate on cruelty to animals. Debates of the House of Commons, 7 March 1883, 1705.
[9] The Eton Register, Part 1, 1840-1850 (Eton, 1903), 74, 94; T. Card, Eton Renewed... (London, 1994), 13, 50. King-Harman's Housemaster, Dr Goodford, was promoted to Headmaster shortly after he left.
[10] London Gazette, 11 May 1855, 9 May 1856. The fall of Sebastopol, in September 1855, effectively ended the war against Russia, which probably explains why he was not sent to the Crimea.
[11] Hart's Army List 1883, 742: https://digital.nls.uk/british-military-lists/archive/103899704?mode=transcription. The Vanity Fair citation was quoted on the website of Irish auctioneers, Adam's, The campaign in Rohilkhand was described in J.W. Kaye and G.B. Malleson, Kaye's and Malleson's History of the Indian Mutiny of 1857-8, iv (London, 1889), 358-81. Although primarily a military uprising, the Indian Mutiny has come to be seen as a national war for independence. As in Ireland, a national uprising was not necessarily supported by all groups and in all localities. The principal leader of the revolt in Rohilkhand was known to the British as the Maulavi. He was eventually killed by "Native" [i.e. Indian] allies, who deposited his severed head at the dining table of the British magistrate, while he was entertaining friends to a meal. Ibid, iv, 380. For the Mutiny generally, E. Stokes (ed. C.A. Bayly), The Peasant Armed … (Oxford, 1986). King-Harman's brief reference to coming under fire was made in the unlikely surroundings of the annual harvest home celebration at Rockingham. Irish Times, 23 October 1882.
[12] London Gazette, 30 September 1859, 3574; BOWKH.
[13] Edinburgh Gazette, 31 January 1860, 138; London Gazette, 13 August 1878, 4583. Parnell joined the Wicklow militia in 1865.
[14] The National Portrait Gallery holds a studio photograph of King-Harman dated to 1860: https://www.npg.org.uk/collections/search/portrait/mw142876/Edward-Robert-King-Harman?LinkID=mp92399&role=sit&rNo=0.
[15] BOWKH. King-Harman was right to show respect to a female Irish mendicant. When a poor woman had brought her children to Rockingham to beg for food, the wife of one of his forebears had sneeringly referred to the the family as the sow and her bonhams [piglets]. "As a punishment for that the next child that was born in Rockingham had a pig's head. As the child could not be kept in the mansion, the King Harmans had a house built on one of the islands of Lough Key. The pig-headed child was placed in this house with many maids waiting on it and had a silver through [trough] for it to eat out of." This story was recorded by the Irish Folklore Commission in the late 1930s: https://www.duchas.ie/en/cbes/4798659/4787762/4924819. While King-Harman's paternalism may grate with 21st readers, it should be remembered that his neighbours, although shrewd in the assessment of their own economic interests, held some remarkably credulous beliefs about both the seen and the unseen world around them. A huge horse, twice the size of an elephant, lived underwater in a pond on the Rockingham demesne, guarding treasure. It was rarely glimpsed: https://www.duchas.ie/en/cbes/4798662/4788132/4927807.
[16] The Cremorne affair was primarily reported in The Times, 13 June, with additional detail from Standard, 13 June, The Era, Lloyd's Illustrated Newspaper, 16 June, Liverpool Daily Post, 17 June 1861. William Ballantine was member of an order of super-barristers, the serjeants-at-law, and was usually known as Serjeant Ballantine. Thomas Arnold, the magistrate, a translator of Goethe, was not related to the family of Arnold of Rugby. It should be noted that Arnold's claim that King-Harman had gone to Cremorne with "the express object of disturbing the public peace" was no doubt plausible, but not strictly supported by the evidence. The junior barrister representing King-Harman, F.L. Lewis, was not related to the Home Secretary, Sir George Cornewall Lewis, who was a Welsh landowner. King-Harman's legal bills must have been considerable, and no doubt Cremorne pursued him for damages. Coldbath Fields (alias Middlesex House of Correction or Clerkenwell Gaol) operated on the silent system, which banned prisoners from communicating with one another. Contrary to later dramatisations of the episode, King-Harman was not sentenced to hard labour, and hence was not made to work the treadwheel. In 1856, 100 of the 1,375 prisoners had been Irish. For a detailed and uninviting picture of the prison at the time of King-Harman's incarceration, H. Mayhew and J. Binny, The Criminal Prisons of London, and Scenes of Prison Life (London, 1862), 277-99, esp. 284n.
[17] Debates of the House of Commons, 20 June 1861, 1324.
[18] Morning Star (London), no date, quoted Kerry Star, 26 June 1861.
[19] R.F. Foster, Charles Stewart Parnell ... (Hassocks, Sussex, 1979 ed., cf. 1st ed. 1976), 120-1. The proprietor of the hotel prosecuted Parnell. However, the magistrates were his personal friends, and fined one of the tourists.
[20] Freeman's Journal, 30 April 1861. The Cremorne rampage may have formed part of a bachelor send-off by King-Harman's friends.
[21] Yorkshire Gazette, 8 June 1861.
[22] A third child, a daughter died in 1867.
[23] ALKH, 58.
[24] ALKH, 70.
[25] Debates of the House of Commons, 19 March 1888, 1719-20; 2 May 1879, 1631-2; Irish Times, 13 February 1883; Nation, 23 April 1870; BOWKH. The "designing knaves" comment was made in a speech at Oxford in June 1882, reported in Cootamundra Herald [New South Wales], 12 August 1882. Australian and New Zealand newspapers are used as sources here, partly for convenience of access through their respective National Library projects, Trove and PapersPast. The antipodean press frequently quoted Irish and British newspapers that are no longer easily located. In some cases, distance may have made them less inhibited in their comments.
[26] Irish Times, 17, 18, 20, 22, 23 April; Cork Examiner, 17 April; Freeman's Journal, 21 April; Nation 25 April; Mayo Examiner, 4 May 1874. Henry Clancy was still working as a hairdresser in Sligo town at the time of the 1901 census. He was a Catholic, unmarried and aged 59, making him 32 at the time of the stabbing. Charles Clancy has not been further traced. With an urban population of over 10,000, Sligo was a regional centre which could support specialist trades.
[27] Irish Times, 18 July; Kerry Evening Post, 24 July 1874.
[28] D. Thornley, Isaac Butt and Home Rule (London, 1964), 83-137. Gladstone's legislation also imposed partial disendowment: King-Harman would propose using the Church of Ireland surplus for relief purposes in 1879-80.
[29] Thornley, Isaac Butt and Home Rule, 113.
[30] BOWKH. Martin was nominated in his absence.
[31] Martin had been defeated by 1,578 votes to 411; King-Harman polled 932 against 1,217. J. Vincent and M. Stenton, eds, McCalmont's Parliamentary Poll Book … (Brighton, 1971), part i, 186.
[32] Vincent and Stenton, eds, McCalmont's Parliamentary Poll Book, part i, 91.
[33] Irish Times, 14 February 1883.
[34] Debates of the House of Commons, 4 June 1886, 1047-8.
[35] Freeman's Journal (Sydney), 29 October 1879, quoting Dublin correspondent of the New York Herald, no date.
[36] Nation, no date, quoted Irish Harp, 27 August 1870 (via Trove). Speaking at Navan in 1875, Parnell similarly claimed to have been a Home Ruler "since he first could think ... he always believed that the day would come when the voice of the people in this country would rule her affairs and make her laws, and that was what he understood by Home Rule." Drogheda Argus, 17 April 1875, in N. Kissane, Parnell: a Documentary History (Dublin, 1991),16.
[37] Nation, 23 April 1870.
[38] Nation, 28 June 1873; 8 June 1878.
[39] Irish Harp, 27 August 1870 (via Trove).
[40] BOWKH.
[41] Freeman's Journal (Sydney), 18 September 1871.
[42] Nation, 28 June 1873.
[43] Freeman's Journal (Sydney), 29 October 1870.
[44] Debates of the House of Commons, 21 March 1877, 266-9.
[45] Nation, 23 April 1870. There may be symbolism in the recollection of a former Roscommon resident that, in those days, King-Harman had called his walking stick "Home Rule". 'Podgers' in Sheffield Independent, 7 February 1882.
[46] King-Harman spoke "with diffidence", an admission which Thornley implies suggested a lack of commitment. It is more likely that this reflected the fact that he was a very new member, and was speaking from the Conservative benches. D. Thornley, Isaac Butt and Home Rule (London, 1964), 316. The motion was defeated by 417 to 67, attracting support from only 13 English MPs. Punch, 5 May 1877, 195 concluded that "the concession of Home-Rule is out of the pale of practical politics".
[47] Debates of the House of Commons, 24 April 1877, 1750-3. King-Harman did point to the absurdity and the expense of dragging witnesses to London to give evidence about private bills. However, this issue (and the concomitant congestion of business at Westminster, which meant that much useful practical legislation simply failed to gain enough time to pass) still raised major questions about the nature of possible devolution. If a Dublin-based body for vetting local legislation could be overruled in London, then small lobbies could block useful measures, especially in the House of Lords which tended to operate on a solidarity principle when individual peers objected to the infringement of their interests.
[48] Debates of the House of Commons, 24 April 1877, 1827. [Note, September 2022: Lord Robert Montagu, another Conservative Home Ruler, recalled that the Conservative chief whip, Colonel Taylor (Parnell's opponent at the 1874 County Dublin by-election) had tried to persuade Butt to join him in introducing (i.e. sponsoring) King-Harman to the House of Commons, as a symbol of unity between the two parties. Butt refused the trap, and King-Harman was introduced as a Conservative. Montagu's book, which alleged that Gladstone and Disraeli were tools of a Jesuit conspiracy, was repudiated by its publisher, but his paranoid allegations were interspersed with what seem to have been genuine recollections. Lord R. Montagu, Recent Events and a Clue to their Solution (London, 1886), 121-2, and see note by Hodder and Stoughton at vii.]
[49] Drogheda Conservative, 19 August 1871. It may be tempting for hindsight to discount King-Harman's statement by filtering it through Redmondite support for the First World War. It is worth noting that the German decision to invade Belgium in 1914 conveniently harnessed support for intervention in three potentially sensitive areas of the white British empire. Ireland rallied to the support of a small and intensively Catholic country, while the fact that Belgium was half-French and half-Dutch aroused sympathy In Canada and (less universally) among settlers in South Africa. It is likely that an Irish legislature would have been less supportive of the Boer War, while King-Harman's staunch support of Disraeli's activist policy in the eastern Mediterranean in 1878 was unpopular in Nationalist ranks.
[50] R. F. Foster, Paddy & Mr Punch… (London, 1995 ed., cf. 1st ed. 1993), 64; Debates of the House of Commons, 24 April 1877, 1753.
[51] Debates of the House of Commons, 12 April 1878, 1262; Freeman's Journal, 13 April; Nation, Connaught Telegraph, 20 April 1878.
[52] Nation, 1, 8 June 1878. For Sheridan, see https://www.gedmartin.net/martinalia-mainmenu-3/336-did-parnell-swear-the-irb-oath.
[53] Nation, 22 June 1878. As with the 1881 letter praising King-Harman from another tenant, John Skeffington, discussed below, the question must arise whether Quinn was pressured into defending his landlord. Erris, also known as The Warren, was a townland between Boyle and the Rockingham demesne. In 1857-8, Griffith's Valuation recorded James Quinn as renting 24 and a half acres of land from Viscount Lorton. In the 1901 census, James Quinn, a 68 year-old Catholic farmer, was recorded as living there with his family. These were probably father and son: the younger Quinn would have been 45 in 1878. A local tradition recorded in the 1930s recalled a dispute between James Quinn and King-Harman, although – as so often with folklore – it did not specify which Quinn and which King-Harman. Quinn, "whose holding adjoined the demesne", wanted to cut down some beech trees, whose extensive roots interfered with growth on his land. When the landlord refused, Quinn drilled holes in the trees, which he filled with a poison made of salt and sour buttermilk, the latter presumably generating a bacterial culture that attacked the timber. To disguise them, the holes were stoppered and covered with bark. In time the offending trees died, and the unsuspecting King-Harman allowed their removal. The story was a classic example of the underdog outwitting the powerful. In itself, it would seem to suggest that the Quinn family had no motive for defending their landlord. However, by 1897 James Quinn was active in local affairs, serving as a poor law guardian. That year, he challenged the circuit judge after being sworn as a member of a jury in Boyle. The judge had recently accused the local population of perjury before the land court. On the principle of guilt by association, Quinn boldly demanded to be released from jury service. The judge was furious and threatened to send him to gaol. His application was refused, but Quinn had made his point and secured headlines for "a remarkable scene". Assuming that the James Quinn of 1897 was the James Quinn of 1878, then the opinionated and reportedly aggressive letter to the Nation may be regarded as his own work. Sligo Champion, 30 October 1897; https://www.duchas.ie/en/cbes/4798662/4788105, and information from http://www.askaboutireland.ie/griffith-valuation/ and http://www.census.nationalarchives.ie/.
[54] Debates of the House of Commons, 3 June 1878, 1109-10; Nation, 8 June 1878. King-Harman continued to fight Ireland's corner in Parliament, often using ingenious arguments. Seeking to limit the impact of the Contagious Diseases (Animals) Bill in 1878, he claimed that "although Irish cattle suffered very much from foot-and-mouth disease, they did not really suffer so much, and got rid of it more quickly – he could not explain why – than English cattle". Debates of the House of Commons, 8 July 1878, 991-2.
[55] Debates of the House of Commons, 4 June 1886, 1045; 19 March 1888, 1719-20, 930.
[56] Glasgow Herald, 28 April 1882.
[57] Thornley, Isaac Butt and Home Rule, 382.
[58] Thornley, Isaac Butt and Home Rule, 166.
[59] Powerscourt was Parnell's second cousin. Carysfort urged him in 1873 to "take up his position in the county": J. Parnell, Charles Stewart Parnell … (London, 1914), 117. In 1879, King-Harman and Powerscourt acted as tour guides to a large party of Irish farmers in London for an agricultural exhibition. The high point of their visit was an informal reception in the gardens of Marlborough House by the Prince and Princess of Wales. Hobart Mercury (Tasmania), 15 September 1879.
[60] Debates of the House of Commons, 11 July 1879, 233-4.
[61] R. Barry O'Brien, The Life of Charles Stewart Parnell (2 vols, London, 1898), i, 52-3, discussed by R.F. Foster, Charles Stewart Parnell, 114-16. For Parnell as a cricketer (he was a wicket-keeper / batsman), R. Kee, The Laurel and the Ivy … (London, 1993), 23-5. Unfortunately, Kee confused Parnell with a namesake, Captain Parnell, who played for the socially elite touring club, I Zingari.
[62] Debates of the House of Commons, 4 June 1886, 1050.
[63] William O'Brien, The Parnell of Real Life (London, 1926), 14. Although writing nearly fifty years after the event, O'Brien seems to have drawn upon a memorandum of the conversation made at the time.
[64] Parnell's not-over reliable sister, Emily Dickinson, claimed that his favourite book as a young man was Youatt's manual The Horse. The conclusive evidence that he had moved in with Katharine O'Shea was his decision to stable his horses at Eltham. O'Brien, The Life of Charles Stewart Parnell, i, 53. For King-Harman and horses, Debates of the House of Commons, 7 March 1883, 1673.
[65] J. Bateman, The Great Landowners of Great Britain and Ireland... (London, 1883), 208. For Parnell's estates and finances: https://www.gedmartin.net/martinalia-mainmenu-3/263-charles-stewart-parnell-economics-and-politics-of-a-building-trade-entrepreneur.
[66] F.S.L. Lyons, Charles Stewart Parnell (London, 1991 ed., cf. 1st ed. 1977), 180.
[67] F.H. O'Donnell, A History of the Irish Parliamentary Party (2 vols, 1910), ii, 76-7. Many Irish estates carried similar burdens: L.P. Curtis, Jr, "Incumbered Wealth: Landed Indebtedness in Post-Famine Ireland", American Historical Review, lxxxv (1980), 332-367.
[68] The farms attached to the Rockingham estate were sold following the more extensive Wyndham Act of 1903.
[69] For Wicklow, see Roy Foster, "Interpretations of Parnell: the Importance of Locale", in Foster, Paddy & Mr Punch, 40-61. I have been unable to consult R. Farrell, K. O'Connor and M. Potter, eds, Roscommon History and Society … (Dublin, 2018), in which essays by P. Melvin and P.J. Carty deal with land-ownership, while O. Fitzpatrick and C. Reilly have studied individual estates.
[70] Bateman's 1883 survey, The Great Landowners of Great Britain and Ireland, recorded that King-Harman owned 29,242 acres in the county. Lord De Freyne at Frenchpark owned 34,400 acres, but his gross rental income was considerably smaller (£13,584 against £18,441). Two other members of the French family owned 16,000 acres. Pakenham-Mahon at Strokestown owned 26,980 acres, Wills Sandford at Castlerea 24,410 acres. There were 14 resident landlords in Roscommon whose gross annual income exceeded £3,000. There were at least 16 substantial absentee landowners, although 6 of them lived in nearby counties. J.C. Coote, who owned 10,348 acres, lived in London's West End.
[71] The exact figures, from Bateman, The Great Landowners of Great Britain and Ireland, 208 were: Roscommon, 29,242 acres, rental £18,441; Sligo, 12,629 acres, rental £5,344; Longford 28,779 acres, rental £14,683; Westmeath, 1,239 acres, rental £851. The Rockingham estate also owned 1,024 acres in Queen's County (Laois), rental £786, divided into two tenancies, obviously farming operations on a relatively large scale. Acreages for Rockingham given in ALKH, 57 for 1872 suggest some marginal changes in the intervening period. An addition of 2,328 acres in Roscommon may reflect bog land from which it was difficult to extract rent. A reduction of 1,441 acres in Sligo perhaps represents sales, but probably not under the very restricted provisions of the 1870 Land Act. Bateman based his survey on parliamentary returns from 1873, so his rental figures did not take account of later reductions. It was stated in 1877 that King-Harman farmed 2,500 acres himself, but this may simply refer to the Rockingham demesne, much of which was parkland and woods. Debates of the House of Commons, 1 May 1877, 183.
[72] BOWKH. Rockingham had been rebuilt c.1805-10 by the architect John Nash, who was also responsible for Buckingham Palace. It was enlarged in 1828, creating a mishmash called by one twentieth-century visitor "the most hideous architecture conceivable." In April 1863, the mansion was extensively damaged by fire, leading to a 2-year rebuilding programme. This cost around £100,000, of which only £30,000 was covered by insurance. During the reconstruction, thieves stripped several tons of lead from the roofs. https://irelandxo.com/ireland-xo/history-and-genealogy/buildings-database/rockingham-house-boyle; D. Thomson, Woodbrook (Harmondsworth, Middlesex, 1976 ed., cf. 1st ed. 1974), 1974), 76; Sligo Guardian, 25 April, quoted Sydney Morning Herald, 20 July 1863; Launceston Examiner (Tasmania), 26 April 1864.
[73] Another Irish landlord, the Earl of Dufferin, sold most of his estates in 1874. He received £370,042, a net profit of £54,850 after clearing debts. Curtis, "Incumbered Wealth: Landed Indebtedness in Post-Famine Ireland", American Historical Review, lxxxv (1980), 359. There was a rumour in 1875 that Rockingham was to be sold to become the Irish residence of Queen Victoria's son, the Duke of Connaught. Press (Christchurch, New Zealand), 2 August 1875.
[74] ALKH, 56-7, 70; BOWKH. King-Harman senior was commemorated by a clocktower in the village of Keenagh, County Longford, erected in 1878. A medallion portrait of him has weathered well over a century and a half. An inscription calls him "a good landlord and an upright man": https://www.buildingsofireland.ie/buildings-search/building/13313015/king-harman-memorial-clock-tower-keenagh-county-longford. Longford County Library holds the Newcastle estate archive: https://www.longfordlibrary.ie/archives-and-local-studies/archives/collections/king%20harman%20papers/.
[75] Irish Times, 13 January 1881.
[76] Numbers of tenants (in 1872) are given in ALKH, 57. In 1888, Balfour reported "some 850 tenants" on the Longford property, but made no mention of Westmeath. Debates of the House of Commons, 4 June 1888, 1025-6.
[77] British Parliamentary Papers, 1881, C2788, 608, 615 [cited as BPP, 1881, C2788]. King-Harman gave extensive evidence to a royal commission on agricultural distress.
[78] In 1883 Sexton alleged (and King-Harman denied) that "not content with doubling the rents of his poor tenants on the mountain sides, [King-Harman] inaugurated a new régime by charging them for the turf his ancestors had allowed them to cut free of charge." Debates of the House of Commons, 14 March 1883, cols 494-5. See also Irish Times, 13 May 1881; Freeman's Journal, 21 January 1884; Debates of the House of Commons, 14 May 1885, 491-2. The claim of an inalienable right to cut turf for fuel remained strong in Roscommon local politics into the 21st century. An Independent candidate was elected to Dáil Éireann on this issue in 2011.
[79] E.g. Longford famers used machinery. "In Connacht they do not know anything about machinery except the mowing machine." BPP, 1881, C2788, 613. In comparative county statistics calculated by W.E. Vaughan, Longford generally appears in more favourable light, but the difference is not always striking. W.E. Vaughan, Landlords and Tenants in Mid-Victorian Ireland (Oxford, 1994), 267-71. The Rockingham estate was often referred to as the Plains of Boyle.
[80] J.J. Lee, The Modernisation of Irish Society, 1848-1918 (Dublin, 1973), 101-2. Cf. M. Winstanley, Ireland and the the Land Question 1800-1922 (London, 1984), 38-9.
[81] Thom's Directory of Ireland, 1878, 534. To his credit, King-Harman complained that National teachers "were poorly paid and that no provision was made for their old age." Debates of the House of Commons, 12 July 1877, 1233.
[82] Lee, The Modernisation of Irish Society, 1848-1918, 70.
[83] King-Harman told the House of Commons in 1878 that gombeen men made bad landlords: "The 'Gombeen' men – those who lent money at usurious interest to the small tenants – were responsible for a great deal of the hardship which ensued. Beginning life in a small way – say as village shopkeepers or publicans –these men managed, by usury and other not very creditable means, to scrape a little money together and buy land, with the object of squeezing as much out of their unhappy tenants as possible, and yet their acts of oppression were generally alluded to as landlord cases." Debates of the House of Commons, 9 July 1878, 1131.
[84] The Times, 11 November 1879. King-Harman's solution was the establishment of local bankruptcy courts. This would free farmers from their debts, but unfortunately also deprive them of their holdings. Debates of the House of Commons, 16 February 1880, 703-4. It is of interest to compare King-Harman's outline with a similar argument advanced in 1883 by the far more intellectual landlord, Arthur MacMorrough Kavanagh. Kavanagh added three points that apparently had not occurred to King-Harman. First, the "considerably greater interest in their holdings" given to tenants by the 1870 Land Act was counter-productive, since it was used "as a security for borrowing money or getting goods on credit". Second, a series of good harvests in the mid-1870s probably encouraged farmers to be "more than ordinarily careless or improvident". Third, a financial panic in Britain in 1879, including a major bank failure, led wholesalers to curtail credit to shopkeepers, who in turn were forced to press "rural customers for a settlement of their claims". S.L. Steele, The Right Honourable Arthur MacMorrough Kavanagh: a Biography (London, 1891), 247-8.
[85] King-Harman repeated his criticism in BPP, 1881, C2788, 620.
[86] Lee, The Modernisation of Irish Society, 1848-1918, 97-9.
[87] BPP, 1881, C2788, 620. T.C. Harrington confronted the argument when King-Harman repeated it in 1887: "whether you take the individual farmer or a whole district – the individual farmer is more deeply indebted to the shopkeeper than he is to his landlord – whether you take the case of the individual farmer or of a whole district of farmers, there is more money due to the shopkeeper than to the landlord. That is a fact which is beyond dispute.... if the rents have been unreasonable and exorbitant, is the unfortunate shopkeeper, who has been supporting the farmers in pursuance of some very strange principle of equity, to be called upon to accept less than he is entitled to, in order that in making abatements the landlord will have to suffer a smaller abatement than he otherwise would suffer?" Debates of the House of Commons, 1 August 1887, 805-6.
[88] Kerry Evening Post, 15 December 1869; Freeman's Journal, 19 August, 8 April 1867.
[89] Debates of the House of Commons, 4 June 1888, 1025-6.
[90] Nation, 23 April 1870. King-Harman was speaking at Ballymahon, where he could "fearlessly appeal to the state of my father's tenantry".
[91] BOWKH.
[92] BPP, 1881, C2788, 612,
[93] BPP, 1881, C2788, 609; Debates of the House of Commons, 21 March 1877, 266-9. He also told the story to the Irish Land Act Commission of 1881. Middlemen were usually protected by long leases, which made it hard to get rid of them.
[94] BOWKH.
[95] Debates of the House of Commons, 21 March 1877, 266-9.
[96] BPP, 1881, C2788, 608, 616.
[97] Debates of the House of Commons, 2 May 1879, 1631-2.
[98] BPP, 1881, C2779, 468.
[99] The Times, 11 November 1879. The letter was written from 24 Duke Street, St James's, presumably King-Harman's London home (another expense). The Pall Mall Gazette, no date, called his letter "the most serious, because the most trustworthy statement yet published as to the condition of a considerable district in the west", quoted Sydney Morning Herald, 21 January 1880.
[100] The Times, 3 January 1880. Edward Saunderson later praised King-Harman, saying that "no man that he was acquainted with in Ireland had borrowed larger sums of money and made use of that money to give labour and employment to the people amongst whom he resided." Saunderson's tribute came at a time when King-Harman's health was known to be poor. Debates of the House of Commons, 30 April 1888, 930.
[101] Debates of the House of Commons, 16 February 1880, 703-4.
[102] Irish Times, 17 February, 20 April 1880. Bennett also named Cardinal McCloskey, the Archbishop of New York, who was not in Ireland, and the moderate Home Ruler William Shaw. Parnell, named as the fourth member, refused to serve. To distinguish him from his father, James Gordon Bennett, Sr, he was usually known simply as Gordon Bennett, a name that became synonymous with that of the deity in popular expressions of amazement.
[103] The Times, 11 November 1879; Irish Times, 7 October 1879, 2 February 1881.
[104] Irish Times, 7 October, and cf. the full and easily accessible account in Toowoomba Chronicle [Queensland], 2 December 1879; Debates of the House of Commons, 27 June 1879, 906-8; https://www.duchas.ie/en/cbes/4758456/4745710/4778351.
[105] The Times, 3 January 1880; BPP, 1881, C2779, 610.
[106] Debates of the House of Commons, 19 March 1888, 1719-20; 4 June 1886, 1052.
[107] Cork Examiner; Irish Times, 27 March 1879.
[108] The episode is discussed in https://www.gedmartin.net/martinalia-mainmenu-3/336-did-parnell-swear-the-irb-oath.
[109] J. Vincent and M. Stenton, eds, McCalmont's Parliamentary Poll Book … (Brighton, 1971), part i, 170, 266; Debates of the House of Commons, 17 April 1885, 48.
[110] Irish Times, 27 March 1880. Among the useless local landlords, Fr Carlos specifically named Lord de Freyne and The O'Conor Don: one wonders if they subsequently subscribed to parish funds. Luke Carlos died in 1896, aged 79, and is buried at Ballinameen. He had been ordained c. 1840 (and therefore presumably ministered through the Famine of the 1840s) and would have been around 63 at the time of the 1880 election. King-Harman had 3 brothers who were Army officers. A fourth was a colonial administrator who became governor of Sierra Leone. There was no family connection with the Royal Navy.
[111] M. Dungan, The Captain and the King ... (Dublin, 2009), 49.
[112] BPP, 1881, C2779, 612, 608.
[113] Irish Times, 11 October 1881. The Irish Times assumed the participants were labourers. The 1901 census would suggest that Skeffington was the Catholic farmer, then aged 60, who occupied land on the shores of Lough Arrow, not far from the Rockingham demesne. Local tradition related that a man of that name had once offended the King-Harmans by singing a Fenian song at a harvest home: https://www.duchas.ie/en/cbes/5162104/5154592.
[114] W.E. Vaughan, Landlords and Tenants in Ireland 1848-1904 (Economic and Social History Society of Ireland, 1984), 37:"testimonials to landed families on occasions such as the heir's majority continued" despite the Land War.
[115] Vaughan, Landlords and Tenants in Mid-Victorian Ireland, 226, challenging the view of Lee, The Modernisation of Irish Society, 1848-1918, 89 ff.; Debates of the House of Commons, 4 June 1886, 1047-8; Irish Times, 3 January 1881.
[116] The annual harvest home continued at Rockingham for some years: in 1882, "the aid of fiddlers and pipers was secured, and dancing kept up with great vigour until midnight." But King-Harman's paternal homilies turned into increasingly vituperative harangues against the Land League, one of which the Freeman's Journal coldly headlined: "Col. King Harman on Selfishness". Irish Times, 23 October 1882; Freeman's Journal, 1 October 1883. Speaking at Boyle in 1884, William O'Brien attacked King-Harman as "a cunning, grinding man, who, under the threadbare glove of good fellowship, concealed a hard and iron hand". Freeman's Journal, 21 January 1884.
[117] The threat was communicated to the royal commission on agriculture by his friend A.L. "Lofty" Tottenham, BPP, 1881, C2788, 584,
[118] Pall Mall Gazette, 3 June 1880, quoted Brisbane Telegraph, 23 August 1880.
[119] There is a verbatim report in the Irish Times, 3 January, and a useful extensive summary in The Protestant Standard (Sydney), 26 March 1881.
[120] He was 77 at the time of the 1901 census, and lived at Tivannagh, about 3 miles west of Boyle. He purchased the land under the Wyndham Act for £443. BPP, 1906, C328, 94.
[121] L.P. Curtis pointed out that Griffith's Valuation was an assessment for local taxation, and "was never intended to serve as a measure of rental". However, it acquired something of a talismanic status both with landlords and agrarian campaigners. Curtis, "Incumbered Wealth: Landed Indebtedness in Post-Famine Ireland", American Historical Review, lxxxv (1980), 342-3.
[122] Irish Times, 13 January 1881.
[123] W.S. Blunt, The Land War in Ireland… (London, 1912), 49.
[124] Debates of the House of Commons, 10 March 1883, 54.
[125] Belfast News-Letter, 4 January 1882. For a more elegantly worded version, Victoria [British Columbia] Daily Colonist, 18 February 1882.
[126] BOWKH.
[127] H.W. Lucy, A Diary of the Salisbury Parliament, 1886-1892 (London, 1892), 75. Lever occasionally referred to Roscommon in his novels. It is surprising that the parallel was not drawn more often.
[128] Debates of the House of Commons, 7 March 1877, 1553-4; 7 March 1883, 1705.
[129] Lucy, A Diary of the Salisbury Parliament, 1886-1892, 75.
[130] BOWKH.
[131] Advocate (Melbourne), 16 June 1888.
[132] Debates of the House of Commons, 30 April 1888, 926-7 (T.P. O'Connor); 4 June 1886, 1086 (J.J. Clancy). Clancy was a skilled King-Harman baiter. "The reductions made on his estate had been among the largest in Ireland, having ranged from 35 to as much as 60 per cent", alleged O'Connor.
[133] BOWKH; Lucy, A Diary of the Salisbury Parliament, 1886-1892, 75.
[134] Freeman's Journal, 22 October 1883. The speaker in 1887 was Dr Charles Tanner. Debates of the House of Commons, 30 August 1887, 552.
[135] T.P. O'Connor, The Parnell Movement ... (London, 1886), 380; Debates of the House of Commons, 11 February 1884, 519-20.
[136] The rally was reported in Belfast News-Letter, 4 January 1882. See also Hobart Mercury, 4 March 1882.
[137] The phrase had been popularised by A.M. Sullivan, The New Ireland (London, 1877), ch. 2. We should note that the schoolmistress also played her part in the inculcation of basic skills. Writing of the impact of the National School system, Sullivan might have had King-Harman in mind when he commented: "It is utterly astonishing how few persons seem to realize or to have noticed these changes so palpably though so silently wrought under their very eyes during the last thirty years." Sullivan, The New Ireland (rev. ed., New York, 1884), 29. Although many local Land League officials were rough-hewn, several of Parnell's parliamentary colleagues were men of remarkable ability: Sexton, who defeated King-Harman in Sligo, was an impressive autodidact, Healy was in the process of establishing himself as a combative barrister.
[138] One prominent Home Ruler, J.J. Clancy, gained an MA in Classics from Queen's College Galway.
[139] The Property Defence Association grew out of an attempt by the Lord Mayor of London to launch a defence fund in support of Irish landowners. King-Harman attended the founding meeting at the Mansion House in December 1881. The maverick Frank Hugh O'Donnell tried to gate-crash the meeting, arguing that he spoke for the tenants who possessed a right of ownership in their holdings thanks to the 1870 Land Act. Advocate (Melbourne), 11 February 1882.
[140] Kavanagh was born with only stumps for arms and legs, yet lived a remarkably active life. J. M. Rigg / H. C. G. Matthew, "Kavanagh, Arthur Macmorrough (1831–1889)", Oxford Dictionary of National Biography; S. Kleinman and P.M. Geoghegan, "Kavanagh, Arthur Macmorrough", Dictionary of Irish Biography. For his Land Corporation project, Steele, The Right Honourable Arthur MacMorrough Kavanagh: a Biography, 219-60.
[141] Advocate (Melbourne), 12 August 1882.
[142] L.M. Geary, The Plan of Campaign 1886-1891 (Cork, 1986), 110-21. Smith-Barry's group concentrated on one property, the Ponsonby estate in east Cork. I take this opportunity to note that the first syllable was pronounced 'pun'.
[143] Bristol Mercury, 19 January (Blackpool speech); Glasgow Herald, 28 April; The Times, 26 August (Frome); Birmingham Daily Post, 2 February 1882 (Handsworth).
[144] This speech has an unusual publication history. A report, from the Oxford Times, 10 June 1882, was sent to a settler in the backblocks of New South Wales. He was impressed, and urged the editor of his local newspaper, the Cootamundra Herald, to publish the text in full. The editor was not enthusiastic, but seems to have encountered a slow-news week (probably not an unusual occurrence), and ran the report. The decision was explained: "The Colonel is perhaps the most competent man in the United Kingdom to speak on Irish affairs." This produced a protest from Hugh Mahon, the colony's most prominent advocate of Home Rule, who condemned the orator as "a tyrannical and rack-renting landlord". However, the editor conceded that although the Herald was a Liberal paper, "there is something to be learnt … from the speech of the Jingoistic Tory, Col. King-Harman". This was probably the kind of impression that King-Harman hoped to make, although not necessarily in the interior of New South Wales. Cootamundra Herald, 5, 12, 19 August 1882. There is free access to this source through the National Library of Australia's Trove collection. In addition, the Glasgow Herald, 28 April 1882, is available for consultation without charge via the Google News Archive. Thus interested readers may sample King-Harman's oratory.
[145] Irish Times, 14 February 1883.
[146] Kee, The Laurel and the Ivy, 59.
[147] Irish Times, 22 February 1883.
[148] Blanche E.G. Dugdale, Arthur James Balfour… (2 vols, London, 1936), i, 149. Early in September 1882, there was a sudden but short-lived strike by the Dublin Metropolitan Police. King-Harman was one of the worthies sworn in as special constables to deter disorder and looting in the city centre. He was allocated Grafton Street as his beat, where he made himself "very conspicuous" and was subjected to some stone-throwing. Freeman's Journal (Dublin), 9 September, quoted Freeman's Journal (Sydney), 28 October 1882.
[149] Vincent and Stenton, eds, McCalmont's Parliamentary Poll Book, part i, 90. Thirteen votes were cast for an independent Conservative. Taylor had defeated Parnell in 1874 by 2,183 to 1,235. Population growth probably explained the increased vote in the interim. Taylor and his fellow Conservative, I.T. Hamilton, had been returned unopposed in 1880.
[150] Irish Times, 14 February 1883.
[151] Irish Times, 11 January 1884; Debates of the House of Commons, 18, 19 February 1884, 1207, 1339-40.
[152] Debates of the House of Commons, 7 March 1883, 1705; Punch, 10 March 1883, 117.
[153] Debates of the House of Commons, 3 August 1885, 985-7; United Ireland, no date, quoted Freeman's Journal (Sydney), 19 September 1885. The vivid description of King-Harman's anger recalls a similar report of his response to O'Donnell's censure of Lord Leitrim.
[154] Debates of the House of Commons, 11 April 1883, 8-9; BOWKH.
[155] Debates of the House of Commons, 2 March 1883, 1272-3. Because children were needed as unpaid labour in the fields, King-Harman was prepared to settle for 100 days of schooling (i.e. 20 weeks) per year. He scored a point by expressing "his regret and astonishment that there was not a larger attendance of Irish Members at a discussion which so much affected the welfare of the rising generation."
[156] BPP, 1881, C2788, 621.
[157] Debates of the House of Commons, 2 March 1883, 1272-3.
[158] Irish Times, 11 January 1884.
[159] A. Jones, The Politics of Reform 1884 (Cambridge, 1972), 18, quoting St John Brodrick.
[160] Debates of the House of Commons, 1 May 1884, 1113-15.
[161] Debates of the House of Commons, 12 June 1884, 138-142. It has been argued that the Conservative party leadership were not serious in opposing the extension of the franchise in Ireland, since they hoped to build an anti-Gladstone alliance with the Parnellites. Tory support for votes for women was largely tactical. Jones, The Politics of Reform 1884, 128-30.
[162] Daily Express (London), 7 January, quoted Advocate (Melbourne), 7 March 1885.
[163] Robertson's vote-share was roughly equal to that polled by the Conservative candidates in Longford and Roscommon South. The Conservative candidate in Sligo North, Colonel Ffolliott, managed to net around 13 percent of the vote, 4 percent more than the party's standard-bearer in Sligo South. One cannot help wondering whether candidate selection might have been factor in the poor Conservative performance. Vincent and Stenton, eds, McCalmont's Parliamentary Poll Book, part ii, 162, 204, 217.
[164] Jones, The Politics of Reform 1884, 91.
[165] The Conservatives put up a respectable showing in the new County Dublin South division: polling 3,736 to 5,114. Vincent and Stenton, eds, McCalmont's Parliamentary Poll Book, part ii, 69. Moving on from the constituency allowed him to be frank in dismissing some of its communities: "Skerries and Swords ... were nothing but wretched villages". Malahide was "a town which in the summer season contained a certain population who went down for the sea-bathing. At other times the place could hardly be called a town at all, certainly not a town of any importance." Debates of the House of Commons, 17 April 1885, 104.
[166] E.g. Debates of the House of Commons, 4 June 1886, 1086 (J.J. Clancy).
[167] Freeman's Journal, 5 September 1885.
[168] Evening News (Sydney), 15 July 1885.
[169] The Freeman's Journal, 7 November 1885, wondered how his seat on the Irish Privy Council would benefit the residents of Kent seaside towns. King-Harman had solicited the honour: A.B. Cooke and A.P.W. Malcomson, compilers, The Ashbourne Papers, 1869-1913.... (Belfast, 1974), 46. A rival Conservative issued an election address but he too was an outsider and nothing more was heard of his candidacy. Freeman's Journal, 20 November 1885.
[170] Vincent and Stenton, eds, McCalmont's Parliamentary Poll Book, part ii, 125.
[171] H. Pelling, Social Geography of British Elections 1885-1910 (London, 1967), 68, 71.
[172] Sligo Champion, 19 January 1884.In 1887, an expansive gesture of hospitality to the publicans of Margate would cost him both financially and politically.
[173] In 1886, he recuperated from illness at Westgate-on-Sea. In 1887, he brought his wife and daughter "for a considerable period" to Ramsgate. Belfast News-Letter, 11 June 1888.
[174] The bulletins were widely published, e.g. Belfast News-Letter, Freeman's Journal, 29 September; Standard, 30 September, 1 October; Birmingham Daily Post, 5 October 1885.
[175] Maitland Mercury (New South Wales), 22 April 1886, reporting English news to 5 March.
[176] For a recent outline of the overall strategy, P. Bew, Enigma: a New Life of Charles Stewart Parnell (Dublin, 2011), 124-31.
[177] The London newspaper was the Echo, no date, described as "favourable to Home Rule". Quoted Freeman's Journal (Sydney), 15 May 1886.
[178] E.g. Brisbane Telegraph, 1 April 1886; Lyttelton Times [New Zealand], 21 April 1886. John Dillon noted that rents on King-Harman's Longford property had been cut by 40 to 50 percent. Freeman's Journal, 19 December 1886, quoted Advocate (Melbourne), 29 January 1887.
[179] Barry O'Brien, The Life of Charles Stewart Parnell, i, 158.
[180] Debates of the House of Commons, 4 June 1886, 1047-8.
[181] Debates of the House of Commons, 4 June 1886, 1085. The Irish National League was the successor to the Land League.
[182] Debates of the House of Commons, 4 June 1886, 1040-51.
[183] King-Harman's outspoken mode of expression can too easily lead to the conclusion that he was an isolated extremist. In fact, his views were very similar to those of the Conservative leader, Lord Salisbury, notably in his thinly anonymous article for the Quarterly Review in 1883, "Disintegration". Salisbury deplored the impact of Gladstone's land legislation on the Irish landlords: "many of them have been driven from their homes, ruined and broken men." The concession of "any species of independence to Ireland" was out of the question. "To the minority, to those who have trusted us, and on the faith of our protection have done our work, it would be a sentence of exile or ruin." P. Smith, ed., Lord Salisbury on Politics... (Cambridge, 1972), 362, 374.
[184] Argus (Melbourne), 1 July 1886.
[185] Vincent and Stenton, eds, McCalmont's Parliamentary Poll Book, part ii, 125. It is interesting to note that King-Harman barely gained any votes in the eight months between the two polls. In most Kent seats, the sitting Conservative MP was returned unopposed. Wilfrid Blunt was approached to stand against King-Harman, an idea that he thought "amusing". Blunt, The Land War in Ireland, 147.
[186] Debates of the House of Commons, 19 August 1886, 91-6; Freeman's Journal (Sydney), 9 October 1886, reporting digest of Dublin newspapers to 28 August.
[187] Debates of the House of Commons, 20 September 1886, 1052. Gladstone refused to respond, dismissing the interjection as "disorderly".
[188] Debates of the House of Commons, 21 September 1886, 1170-6.
[189] A. O'Day, Parnell and the First Home Rule Episode 1884-87 (Dublin, 1986), 219.
[190] BOWKH; F.B. Smith, The People's Health 1830-1910 (London, 1979), 244-9. Major outbreaks at Mountain Ash, Glamorgan in 1887 and Maidstone, Kent, ten years later, registered death rates of around 6 percent. Laurence King-Harman died one month short of his 23rd birthday.
[191] Irish Times, 30 October, 1 November; Sligo Champion, 30 October 1886. An antiquarian, Canon Francis Burke was author of Loch Ce and its Annals (Dublin, 1895).
[192] Tuam Herald, 1 January 1887.
[193] Freeman's Journal, 22 October 1883; Blunt, The Land War in Ireland, 86. Duelling had been generally condemned as barbaric and absurd since (at least) c. 1850.
[194] Punch, 9 April 1887, 180.
[195] Punch, 23 April 1887, 196; Debates of the House of Commons, 14 April 1887, 887-9; R.B. McDowell, The Irish Administration 1801-1914 (London, 1964), 30-3. Incoming ministers usually faced by-elections, although parliamentary under-secretaries at the Colonial Office and Home Office were exempt, since they were appointed by their respective secretaries of state. The government argued that King-Harman did not have to face a by-election since he did not hold an office of profit under the Crown.
[196] Widely published in Australia, e.g. Age (Melbourne), 11 April 1887.
[197] Debates of the House of Commons, 30 August 1887, 538.
[198] H.W. Lucy, A Diary of the Salisbury Parliament, 1886-1892 (London, 1892), 35-6. "The Questions are sent over to Dublin, and the answers to them are drawn up by clerks", Healy complained. Dr Tanner asked: "does he ever attempt to answer any Question without reading it? … he comes up, and he reads out the answer, which, I presume, is supplied to him. It is merely a mechanical action – 'Pull the string, and the figure will work'." Healy highlighted another of King-Harman's deficiencies when he asked: "whoever heard of the right hon. and gallant Gentleman the Member for the Isle of Thanet making a joke?" In fact, there was nothing new about the manner of ministerial replies to Irish questions. In 1885, Punch had described how the Liberal chief secretary, Campbell-Bannerman, "reads, without emotion, prodigious answers Irish Office places in his hands." Debates of the House of Commons, 30 August 1887, 524, 552-3; 9 March 1888, 754; Punch, 11 April 1885, 179.
[199] Debates of the House of Commons, 9 June 1887, 1731 for the episode; Punch, 25 June 1887, 313 for the reaction, not reported in Hansard. The chief secretary's office has been described in this period as "an undermanned bureau operating in an anomalous constitutional relationship with its political master." K. Flanagan, "The Chief Secretary's Office, 1853-1914: a Bureaucratic Enigma", Irish Historical Studies, xxiv, 1984, 197-225, esp. 225.
[200] Punch, 28 May 1887, 256.
[201] Punch, 10 September 1887, 119.
[202] King-Harman denied any association, especially with Sheridan, in Irish Times, 21 April 1887 and Debates of the House of Commons, 30 August 1887, 533-4.
[203] Debates of the House of Commons, 30 August 1887, 521-2, 530-1. Healy, 537-8 ("We know what Cremorne was at the time the right hon. and gallant Gentleman was a frequenter of the place") hinted that the gardens were the haunt of prostitutes.
[204] Nation, 10 September 1887.
[205] Debates of the House of Commons, 22 August 1887, 1355.
[206] McDowell, The Irish Administration 1801-1914, 32-3; Lucy, A Diary of the Salisbury Parliament, 1886-1892, 32-3. "King-Harman walking about Lobby in rather low spirits. Bill for his salary on again to-day, and again blocked by Irish Members." Punch, 17 March 1888, 125, reporting House of Commons, 9 March. The Belfast News-Letter, 11 June 1888, stated that King-Harman "more than once offered to resign".
[207] Debates of the House of Commons, 9 March 1888, 744-55, 758.
[208] Debates of the House of Commons, 30 April 1888, 926-7, 916.
[209] Kerry Sentinel, 19 May 1888; Advocate (Melbourne), 16 June 1888.
[210] J. Haydn, The Book of Dignities … (London, 1890), 564.
[211] Dugdale, Arthur James Balfour..., i, 149-50; Geary, The Plan of Campaign 1886-1891, 101-19.
[212] Cork Examiner, 14 March 1888. There was also a rumour at Christmas 1887 that King-Harman was to receive a peerage (an honour he could not possibly have afforded), a move which was probably also designed to force him out. Irish Times, 27 December 1887. A Cambridge graduate and rowing Blue, Robert Penrose-Fitzgerald merits further study. His brother, James Penrose-Fitzgerald, was an effective and tough-minded land agent in County Cork, and an ally of A.H. Smith-Barry. J.S. Donnelly, Jr, The Land and People of Nineteenth-Century Cork ... (London, 1975), 185-6, 329.
[213] The Times, and cf. Belfast News-Letter, 11 June 1888: "he had been in bad health for some time".
[214] Punch, 26 May 1887, 256.
[215] Irish Times, 10 December 1887.
[216] Irish Times, 8 June 1888, reported that he was "seriously ill with throat affection".
[217] Belfast News-Letter, 11 June 1888.
[218] Irish Times, 23 March 1888.
[219] I am grateful to William de Villiers and Peter Underwood for information about the Hawarden Castle, and the Cape climate. It has not been possible to trace any information about King-Harman's three-week stay in South Africa. The Cape Colony's railway network was still sketchy, and travel within the colony would probably have been unattractive for an invalid. The Hawarden estate in Flintshire belonged to Gladstone's brother-in-law, Sir Stephen Glynne, who left it to his nephew, Gladstone's eldest son. However, Gladstone treated it as his own home. The Scottish shipping magnate, Donald Currie, named the Hawarden Castle as a compliment to him when it was launched in 1883.
[220] Irish Times; Globe (London), 8 May 1888.
[221] Irish Times, 28 May; Belfast News-Letter; The Times, 11 June, 1888; Blunt, The Land War in Ireland, 442. The two doctors were M'Dowell of Sligo and Stafford of Boyle, who married Fay King-Harman in 1890.
[222] Irish Times, 14, 15 June 1888; Blunt, The Land War in Ireland, 442.
[223] The Times, 11 June, 1888.
[224] Weekly Dispatch, no date, quoted Australian Star, 3 August 1888.
[225] Advocate (Melbourne), 16 June 1888.
[226] Freeman's Journal (Dublin), 16 June, quoted Freeman's Journal (Sydney), 28 July 1888.
[227] Irish Times, 23 December 1886.
[228] Manchester Guardian, no date, quoted Advocate (Melbourne), 27 October 1888.
[229] Irish Times, 4 September 1888.
[230] S. Sturgeon and G. Clinton, "Stafford, Sir Thomas", Dictionary of Irish Biography; Irish Times, 13 May 1935.
[231] Cork Examiner, 12 May; Irish Times, 23 May 1890. The couple were married at St John's, Smith Square, a church conveniently close to Parliament.
[232] https://www.duchas.ie/en/cbes/4798663/4788254. The information recorded by the Folklore Commission was apparently supplied by Jasper Tully, Nationalist MP for Roscommon 1892-1905, shortly before his death in 1938. The details seem confused, but Tully did raise various issues relating to the King-Harman estates in the House of Commons in 1905. On one complex legal issue, so the account stated, Tim Healy advised Tully that only Edward Carson, deadly foe of the Home Rulers, possessed the skill to defend Fay Stafford's interests. Tully, who had never spoken to Carson, decided to tackle the matter head-on, confronting him with the challenge: "I have come to you as an old Fenian and an old Rebel to plead for the daughter of my biggest enemy." Carson duly solved the problem.
[233] Freeman's Journal, 21 July 1893. The dramatis personae of the King-Harman court case oddly echoed the two sides who disputed the Will of Katharine O'Shea's Aunt Ben, a crew of alienated siblings pitted against the declared beneficiary. The sale of the Rockingham lands came just in time to pay for young Edward's schooling at Eton. A second son, Cecil, was born to the Staffords in 1895, and ultimately inherited Rockingham.
[234] Manchester Guardian, 17 September 1904. The report may have been premature. In mid-1905, £407,356 had been handed over, but negotiations were incomplete. Debates of the House of Commons, 11 July 1905, 250-1.
[235] Leitrim Observer, 23 March 1912. Surnames of prominent participants suggest that the meeting may not have been representative of the local population.
[236] Freeman's Journal, 25 June 1915. Edward Stafford-King-Harman was reported missing in November 1914 (and his promotion to captain was actually gazetted a month later), but his death was confirmed in June 1915. His obituary in the Eton College Chronicle, 15 July 1915, 848 was too good to be true: "a quiet dignity … much hampered by ill health … full of Irish humour, he had at the same time the refinement of mind of a saint …. Any boy who was weak found in him a protector, and his presence was a silent rebuke to all meanness." Although in upper-class mixed marriages, boys were usually reared in their father's Church and daughters in their mother's, both sons were brought up as Protestants, and Sir Cecil was active in Church of Ireland affairs. However, Fay Stafford-King-Harman converted to Catholicism shortly before her death in 1916, and "became a regular attendant". Freeman's Journal, 27 March 1916.
[237] Irish Times, 3 February 1943, 24 November 1945, 3 January 1946, 2 April 1987.
[238] The mansion's destruction was ironic since it had come through the War of Independence and Civil War unscathed. In one of the most notable paramilitary actions between the Easter Rising and the War of Independence, it was raided in February 1918 by a party of masked men who seized arms and ammunition: Count Plunkett's son, George (Seoirse), a 1916 veteran like his executed brother, was one of those later arrested. (His father had recently been elected abstentionist MP for Roscommon North.) "The present and past owners of Rockingham have been invariably kind to all," said the local Catholic bishop, Dr Coyne of Elphin, in condemning the raid, a sign that the older view of the King-Harmans as benevolent landlords had reasserted itself. Raiders in 1922 stole cash and 4 bicycles, probably a crime without explicit political overtones but made possible by the general instability of the time. Irish Times, 23 February, 13 March 1918, 22 June 1922; Southern Cross (Adelaide), 24 May 1918; https://www.theirishstory.com/2012/08/31/the-rockingham-raid/#.YKO_J6hKjIU.
[239] ALKH, 71-3.
[240] King-Harman had removed furniture and fittings (even linen) from Newcastle to Rockingham. This became a cause of dispute after his death. For the mansion: https://www.buildingsofireland.ie/buildings-search/building/13402709/newcastle-house-newcastle-newcastle-demesne-county-longford.
[241] https://www.gedmartin.net/martinalia-mainmenu-3/263-charles-stewart-parnell-economics-and-politics-of-a-building-trade-entrepreneur.
[242] Irish Times, 20 April 1887.
[243] Foster, Paddy & Mr Punch, 674.
[244] F. Callanan, "Parnell, Charles Stewart", Dictionary of Irish Biography.
[245] Bew, Enigma, 194-5.
[246] T.M. Healy, Letters and Leaders of My Day (2 vols, London, 1928), ii, p. 367.
[247] Debates of the House of Commons, 4 June 1886, 1050. But in 1878, King-Harman supported the Society for the Preservation of the Irish Language when it approached the Department of Education in 1878. Nation, 1 June 1878.
[248] J.E and G.W Dunleavy, Douglas Hyde: a Maker of Modern Ireland (Berkeley, Calif., 1991), 182-6, passim. In contrast to King-Harman, Douglas Hyde's Protestantism was not very fervent. In 1883, he wrote of his belief "that I shall not be punished after death for having been born and brought up in the religion of my parents, even if it be an untrue one, since the fault was not mine." Ibid., 112. Hyde did not reject all aspects of the lifestyle associated with King-Harman. From 1893 to 1949 he maintained a small country house near Frenchpark in Roscommon, where he enjoyed shooting (and upheld his game rights over neighbouring farms).
[249] Brisbane Telegraph, 29 September 1888. Mr Micawber's view of economics continues to be widely cited, although few nowadays can stomach David Copperfield.
[250] Temuka Leader, 14 April 1887.
[251] Irish Times, 10 December 1887.
[252] The Times; Belfast News-Letter, 11 June 1888.
[253] BOWKH.
[254] R. Lucas, Colonel Saunderson, MP: a Memoir (London, 1908), 148; Ipswich Journal, 7 April 1888.
[255] Lucy, A Diary of the Salisbury Parliament, 1886-1892, 74-5, 437-8.
[256] Manchester Guardian, 12 June 1888.